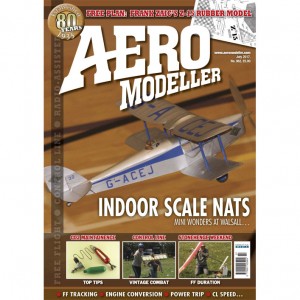 04 HEARD AT THE
HANGAR DOORS
EDITORIAL, NEWS AND VIEWS.
07 UP AND COMING
CALENDAR OF EVENTS FOR THE
NEXT MONTHS.
08 SCALE MATTERS
BILL DENNIS REPORTS ON THE
SCALE INDOOR NATS
12 POWER TRIP – CO2 MOTORS
MARIS DISLER ON MOTOR
MAINTAINENCE
15 NOSTALGIA
ONE OF THE FIRST 'A' FRAMES
REVISITED
16 MODEL HISTORY –
SCHLOSSER
JOHN GOODALL REMEMBERS THE
FAMOUS SMALL-ENGINE MAKER
20 FOR OLD TIMES SAKE
DON HOWE LOOKS AT CLASSIC OLD
TIMER DESIGNS
24 STONEHENGE AND EQUINOX
CUP COMPS
FF DURATION FROM SALISBURY PLAIN
29 AEROPOST
READERS LETTERS
30 OFF THE SHELF
A LOOK AT NEW AND INNOVATIVE
PRODUCTS
32 FREE PLAN – ZAIC'S KIT THAT
NEVER WAS
RUBBER POWERED STICK MODEL –
THE Z-15 SLOWPOKE
36 VINTAGE COMBAT
FIRST TO FLY AT THE NFC,
BUCKMISTER LODGE
40 GETTING STARTED IN
MONOLINE SPEED!
DICK HART REVIEWS THE ALLCOCK PAPERS…
46 MODEL SCIENCE – BETTER
RETRIEVAL PART 32
MODEL VISIBILITY – AND KNOW
YOUR RIGHTS
54 FROM THE ARMCHAIR
STUART SHERLOCK MUSES ON ODD
THINGS AERONAUTICAL
58 ENGINES AND OIL
BRIAN WINCH TELLS OF MORE 'GLOW
TO DIESEL' CONVERSIONS
64 BOOK REVIEW
ENGINES FOR THE COFFEE TABLE…
66 TAIL END CHARLIE
THE THOUGHTS OF CHRIS OTTEWELL.