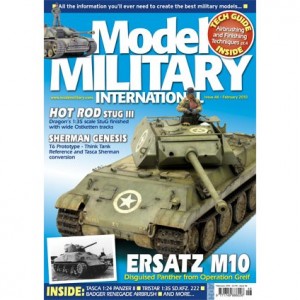 Issue 046 – February 2010
» THINK TANK
T6 described by Karl Van Sweden.
» ROUGH RIDER
Jim Wechsler converts Tasca's early Sherman to the T6 prototype using TMD resin.
» EUROMILITAIRE 2009
Show report by Marcus Nicholls.
» ERZATZ M10
Sam Dwyer and Anthony Sheedy join forces to build Dragon's 1:35 scale disguised Panther G.
» PREVIEW
The Editor examines Trisar's new Sd.Kfz. 222.
» CENTURION MK.5/1
Matt Edwards models a jungle scene featuring AFV Club's 1:35 Centurion.
» PREVIEW
Tasca's all-new 1:24 scale Panzer II Ausf. F.
» TECH GUIDE
Finishing School Part Four by Brett Green.
» TECH GUIDE
Badger Airbrush Test Drive by Steven Eisenman.
» STUG III AUSF. G
Chris Leeman hots up Dragon's older 1:35 scale Dragon StuG III.