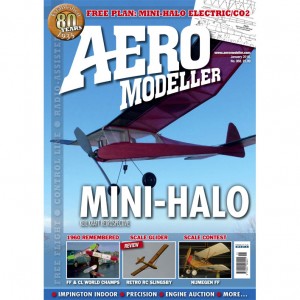 04 HEARD AT THE HANGAR
DOORS
EDITORIAL, NEWS AND VIEWS.
07 UP AND COMING
CALENDAR OF EVENTS FOR THE
NEXT MONTHS.
08 OFF THE SHELF
A LOOK AT NEW AND
INNOVATIVE PRODUCTS.
10 REVIEW – SLINGSBY CADET
SCALE MODEL GLIDER KIT FROM
RETRO RC IS REVIEWED
BY IAN LEVER.
14 3D PRINTING ACCESSORIES
CAN A MODERN PIECE OF
TECHNOLOGY BE OF USE TO
TRADITIONAL AEROMODELLERS?
MIKE EDGERTON EXPERIMENTS.
20 WORKING FOR KEIL KRAFT
DAVID RAWLINS REMEMBER HIS
TIME SPENT AT KEIL KRAFT IN
THE 1970'S.
24 SCALE MATTERS
THE POPULAR INDOOR FF SCALE
EVENT IN NIJMEGEN IS COVERED
BY BILL DENNIS.
28 POWER TRIP – AE 0.5
MARIS DISLERS GETS THE BEST
FROM THIS SMALL DIESEL.
30 FREE PLAN – MINI-HALO
MIKE WATTERS SHRINKS THE
CLASSIC DAVE PLATT KK HALO
DESIGN FOR ELECTRIC OR CO2
POWER, FF OR MICRORC.
1960 REVISITED
38 CL SPEED WORLD CHAMPS
ADRIAN DUNCAN EXAMINES THE
CONTROVERSIAL RESULTS OF THE
1960 CL SPEED CONTEST.
42 FF CRANFIELD WORLD
CHAMPS
A TREASURE TROVE OF UNSEEN
COLOUR PHOTOS BY MIKE EVATT
FROM THE 1960 FF POWER WC ARE
DESCRIBED BY DAVE HIPPERSON.
46 FROM THE ARMCHAIR
STUART 'SUPERCOOL' SHERLOCK
WONDERS WHAT HOLDS US UP?
48 BUILDING FOR PRECISION
AS SMALL FIELD PRECISION
CONTESTS GAIN POPULARITY, WHAT
IS THE BEST APPROACH FOR
SUCCESS? JOHN ASHMOLE GIVES
HIS THOUGHTS.
50 KNIGHT ERRANT
DAVE CHINERY REVISITS HIS FIRST
PUBLISHED CL DESIGN.
54 BETTER… RETRIEVAL
MORE FROM DAVE HIPPERSON ON
RETRIEVING MODELS.
58 IMPINGTON INDOORS
ANDREW BODDINGTON REPORTS
FROM THE LARGE INDOOR FF, RTP
AND RC EVENT JUST OUTSIDE
OF CAMBRIDGE.
61 AEROPOST
YOUR LETTERS AND EMAILS.
62 GILDINGS AUCTION
NIGEL MONK ON WHAT WENT UNDER
THE HAMMER AT THE MAIN ANNUAL
ENGINE AUCTION.
66 TAIL END CHARLIE
THE THOUGHTS OF CHRIS OTTEWELL.