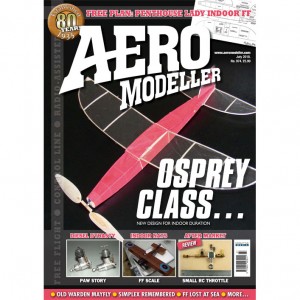 04 HEARD AT THE HANGAR
DOORS
Editorial, News and Views.
09 UP AND COMING
Calendar of events for the next months.
10 OFF THE SHELF
New and Innovative Products.
12 POWER TRIP – AS THROTTLE
A small add-on variable carburettor is
reviewed by Maris Dislers.
16 SALISBURY FF WORLD CUP
Mike Evatt reports on the Stonehenge
Cup and Equinox events.
20 FF NATIONALS –
THE BOWDEN
Hot off the press action from
Barkston's 'Classic'.
24 THE PAW STORY
Part 1: The early history of the iconic
British diesel marque by John Goodall.
30 FREE PLAN –
PENTHOUSE LADY
An Osprey Class indoor design by longtime
contributor John Barker.
40 SCALE MATTERS
Bill Dennis reports from Indoor
FF Scale Nationals.
46 FROM THE ARMCHAIR
Stuart 'Supercool' Sherlock on
compressibility…
52 MY FAVOURITE MODEL
Jim Woodside shares the love for the
Paul Plecan Simplex.
56 OLD WARDEN MAYFLY
Ebenezers and more from the
Shuttleworth Collection.
60 BETTER… RETRIEVAL
A salty tang to the latest anecdotes
and advice from Dave Hipperson.
64 VINTAGE COMBAT
An update on the fi rst Vintage Combat
event of 2018.
66 TAIL END CHARLIE
The thoughts of Chris Ottewell.