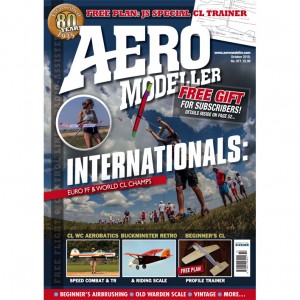 04 HEARD AT THE HANGAR
DOORS
EDITORIAL, NEWS AND VIEWS.
07 UP AND COMING
CALENDAR OF EVENTS FOR THE
NEXT MONTHS.
CONTROL LINE WORLD CHAMPS
LANDRES, FRANCE
08 WC F2B AEROBATICS
GLEN ALISON REPORTS FROM
THE STUNT CIRCLES.
12 WC F2D COMBAT
COVERAGE OF THE FAST AND
FURIOUS BY HARRY WALKER.
16 WC F2A SPEED
CAN THE BRITISH TEAM REPEAT
THEIR PREVIOUS SPEED SUCCESS?
PAUL EISNER REPORTS.
20 WC F2C TEAM RACING
MALCOLM ROSS ON THE RACE
TESTING OF TEAMS AND EQUIPMENT.
INTERNATIONAL FREE FLIGHT
22 EURO FF CHAMPS
CHRIS EDGE REPORTS ON F1
DURATION FROM SZENTES, HUNGARY.
30 FREE PLAN JS SPECIAL
A BEGINNER'S CL MODEL FOR
0.5CC WITH A SIMPLE THIMBLE
UNIFLOW TANK, SUPERCOOL STYLE.
38 SCALE MATTERS
THE EDDIE RIDING TROPHY FOR FF
SCALE IS BACK. BILL DENNIS
COMPETES AND REPORTS.
44 RETRO FEST
A NEW COMBINED FF, CL & RC EVENT
AT THE NATIONAL CENTRE.
46 AIRBRUSHING –
YOU CAN DO IT!
PART 1, GETTING STARTED BY
RICHARD CROSSLEY.
54 FOR OLD TIMES' SAKE
A VINTAGE PERSPECTIVE FROM OZ
BY DON HOWIE.
58 OLD WARDEN SCALE
SCALE AND SPORTS MODEL FLYING
AT THE SHUTTLEWORTH COLLECTION.
62 IN SCALE CIRCLES
RONNIE TRIBE ON THE CL SCALE
AT OLD WARDEN.
66 TAIL END CHARLIE
THE THOUGHTS OF CHRIS OTTEWELL.