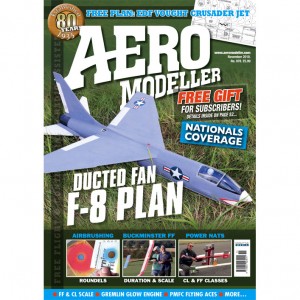 04 HEARD AT THE HANGAR
DOORS
EDITORIAL, NEWS AND VIEWS.
09 UP AND COMING
CALENDAR OF EVENTS FOR THE
NEXT MONTHS.
BMFA POWER NATIONALS
10 CL AEROBATICS
PETE TINDAL REPORTS ON CL
STUNT AT THE NATS.
12 CL TEAM RACING
MODERN CL RACING AT BARKSTON
BY SIMON MOLYNEUX
14 CL MINI GOODYEAR
BOTH SENIOR AND JUNIOR MGYR
FINALS BY BRIAN WATERLAND.
16 CL VINTAGE TEAM RACING
MALCOLM ROSS ON VTR CLASSIC
TEAM RACING.
18 CL VINTAGE COMBAT
DIESEL POWERED NATS COMBAT
REPORT BY MICK LEWIS.
22 AIRBRUSHING –
YOU CAN DO IT!
PART 2, MASKING AND SPRAYING
ROUNDELS BY RICHARD CROSSLEY.
26 FLYING ACES
ANDREW BODDINGTON REPORTS ON
THE PETERBOROUGH CLUB'S
FF EVENT.
28 FREE PLAN – VOUGHT F-8
CRUSADER
YOUR CHANCE TO BUILD ONE OF
IVAN TAYLOR'S FINE FLYING EDF
JET MODELS.
40 SCALE MATTERS
COVERAGE OF FF SCALE AT THE
POWER NATS BY BILL DENNIS.
47 AEROPOST
YOUR LETTERS AND EMAILS.
48 BUCKMINSTER FF GALA
FF DURATION, VINTAGE AND SCALE
RUBBED SHOULDERS AT THE BMFA
NATIONAL CENTRE.
54 FOR OLD TIMES' SAKE
A VINTAGE PERSPECTIVE FROM OZ
BY DON HOWIE.
58 IN SCALE CIRCLES
RONNIE TRIBE ON CL SCALE AT THE
POWER NATS.
62 POWER TRIP – GREMLIN
MARIS DISLERS TRACES THE ORIGINS
OF THIS LITTLE-KNOWN GLOW
ENGINE.
66 TAIL END CHARLIE
THE THOUGHTS OF CHRIS OTTEWELL.