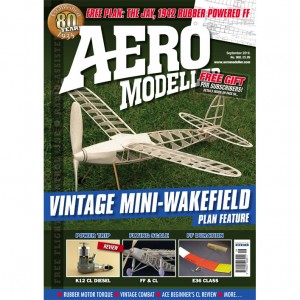 04 HEARD AT THE HANGAR
DOORS
EDITORIAL, NEWS AND VIEWS.
07 UP AND COMING
CALENDAR OF EVENTS FOR THE
NEXT MONTHS.
08 OFF THE SHELF
NEW AND INNOVATIVE PRODUCTS.
10 POWER TRIP –
K12/15 DIESEL
A NEW 2.5CC DIESEL IN THE CLASSIC
TIGER MOULD IS TESTED
BY MARIS DISLERS.
14 RUBBER TORQUE
BRYAN GOSTLOW COLLECTS AND
ANALYSES THE DATA ON RUBBER
MOTOR TORQUE.
20 STARTING E36
PART 2. CHRIS EDGE DEVELOPS A
SLINKY ELECTRIC DURATION MODEL.
26 IN SCALE CIRCLES
THE LATEST CL SCALE BUILDS FROM
RONNIE TRIBE.
30 FREE PLAN – THE JAY
MARTIN GARNETT REVISITS HIS
FATHER'S 1942 MINI-WAKEFIELD.
42 SCALE MATTERS
BILL DENNIS ON THE RIDING TROPHY
AND NEW BUILD FF MODELS.
48 VINTAGE COMBAT
SOUTH BRISTOL CL GALA COMBAT
REPORT BY MICK LEWIS.
52 RADIO ASSIST
MIKE SPENCER ON HOW TO
RECREATE RELIABLE GALLOPING
GHOST.
58 SCALEMASTERS
DAVE PUTTERILL REPORTS FROM
SOUTH AUSTRALIA ON SCALE FF.
62 KIT REVIEW
DEN'S ACE CL TRAINER IS BUILT
BY DAVID LOVEGROVE.
66 TAIL END CHARLIE
THE THOUGHTS OF CHRIS OTTEWELL.