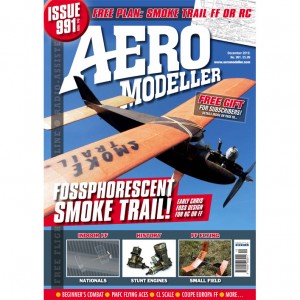 04 HEARD AT THE HANGAR
DOORS
EDITORIAL, NEWS AND VIEWS.
09 UP AND COMING
CALENDAR OF EVENTS FOR THE
NEXT MONTHS.
10 INDOOR NATS
MEREDITH EVANS REPORTS ON
THE INDOOR FF PERFORMANCE
NATIONALS.
16 IN SCALE CIRCLES
CONTROL LINE SCALE UPDATE
FROM RONNIE TRIBE.
20 EASY REVIEW
THE ELECTRIC RC HIESBOK EASY KIT
IS REVIEWED BY CHRIS MARSH.
24 COVER TO COVER
NEW AVIATION BOOKS FOR YOUR
CHRISTMAS STOCKING REVIEWED
BY CHRIS OTTEWELL.
28 FREE PLAN – SMOKE TRAIL
THE FIRST PUBLISHED PLAN
FROM CHRIS FOSS IS REVISITED IN
FF AND RC OPTIONS.
38 COUPE EUROPA
MARTIN DILLY REPORTS FROM
THE FF COUPE COMP.
40 RICHMOND OZ SCALE
AUSTRALIAN FF SCALE COMPETITION
IS COVERED BY STAN MAUGER.
44 STARTING COMBAT
TIM HOBBINS REPORTS ON A
TRAINING DAY FOR BUDDING
COMBAT FLYERS.
48 RETRO RC VISIT
JOHN BRISTOW VISITS THE US
MANUFACTURER OF CLASSIC FF
AND RC KITS.
52 SMALL FIELD FUN
JOHN ASHMOLE DESCRIBES HIS
EXPERIENCE OF FF COMPETITIONS AT
SMALLER SITES.
58 STUNT ENGINES
DEREK PICKARD LOOKS BACK AT THE
EVOLUTION OF MOTORS FOR CL
AEROBATICS.
62 FLYING ACES
PETERBOROUGH MFC'S POPULAR
EVENT FOR QUIET FF SCALE AND
DURATION MODELS.
66 TAIL END CHARLIE
THE THOUGHTS OF CHRIS OTTEWELL.