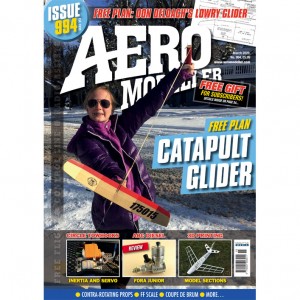 04 HEARD AT THE
HANGAR DOORS
EDITORIAL, NEWS AND VIEWS.
09 UP AND COMING
CALENDAR OF EVENTS FOR THE NEXT MONTHS.
10 OFF THE SHELF
NEW AND INNOVATIVE PRODUCTS.
12 POWER TRIP –
FORA ABC JUNIOR
THE UPDATED FORA DIESEL IS TESTED BY MARIS
DISLERS.
16 CIRCLE TOWHOOKS
PART 2: CHRIS EDGE BRINGS THINGS UP TO DATE
WITH INERTIA AND SERVO HOOKS.
22 3D PRINTING
BRIAN SPENCER DESCRIBES HIS APPROACH TO
3D PRINTING FLYING MODEL COMPONENTS.
28 FREE PLAN – LOWRY
A COMPETITION CATAPULT LAUNCHED GLIDER
FROM THE PEN OF DON DELOACH.
36 SCALE MATTERS
BILL DENNIS ON THE LATEST FF SCALE BUILDS.
42 RECORD BREAKERS
FF, CL AND RC MODEL WORLD RECORD
BREAKING HISTORY BY MARTIN DILLY.
48 COUPE DE BRUM
THE DECEMBER FF COUPE EVENT IS COVERED BY
GAVIN MANION AND GEOFF SMITH.
50 CREDGINGTON
THE MUCH DELAYED CREDGINGTON TROPHY FF
SCALE EVENT.
53 AEROPOST
READERS' LETTERS AND EMAILS.
56 GADGET REVIEW
STUART MARSDEN TRIES SOME USEFUL TOOLS
FROM J PERKINS.
58 IN SCALE CIRCLES
RONNIE TRIBE DESCRIBES THE WORK OF MERT
BOLLMAN DEVELOPING CONTRA-ROTATING
PROPS.
66 TAIL END CHARLIE
THE THOUGHTS OF CHRIS OTTEWELL.