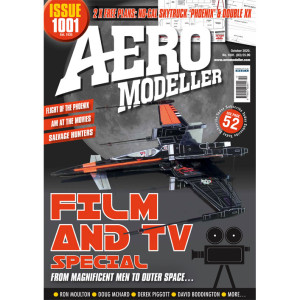 04 HEARD AT THE
HANGAR DOORS
EDITORIAL, NEWS AND VIEWS.
07 UP AND COMING
CALENDAR OF EVENTS.
08 AM AT THE MOVIES!
ANDREW BODDINGTON TRACES THE VARIOUS
LINKS BETWEEN AEROMODELLER AND THE
SILVER SCREEN.
14 MODEL DESCRIBED
DOUG MCHARD'S RENDITION OF THE 'LITTLE
TIDDLER' FROM THOSE MAGNIFICENT MEN FILM.
18 3D PRINTING
PART 4: BRIAN SPENCER ON PRINTING AN EDF
DELTA AND OTHER PROJECTS.
24 SALVAGE HUNTERS
BEHIND THE SCENES ON THE TV RESTORATION
OF THE DAVID BODDINGTON DESIGNED
SOPWITH TABLOID.
28 AM MEMORIES
AS PART OF OUR 1000TH CELEBRATION SOME
PERSONAL REMINISCENCES
BY DAVE HIPPERSON.
30 FREE PLAN 1 – FLIGHT
OF THE PHOENIX
RICHARD CROSSLEY'S NO-CAL FAIRCHILD
SKYTRUCK FROM THE FILM.
36 FREE PLAN 2 – XX
FIGHTER
AN INTERGALACTIC MICRO RC FIGHTER BY ROB
SMITH, INSPIRED BY THE FILMS OF OUR YOUTH.
42 TOWLINE GLIDERS
PART 4: CHRIS EDGE ON ADVANCED TOWING
TECHNIQUES AND TOWLINES.
48 SCALE MATTERS
BILL DENNIS ON THE LATEST FF SCALE BUILDS.
54 THE AM EDITOR
RON MOULTON IS REMEMBERED BY THOSE WHO
WORKED WITH AND KNEW HIM.
60 PERFORMANCE TESTS
PART 2: HOW TO GET THE BEST OUT OF THE
ENGINE TEST DATA BY MARIS DISLERS.
66 TAIL END CHARLIE
THE THOUGHTS OF CHRIS OTTEWELL.