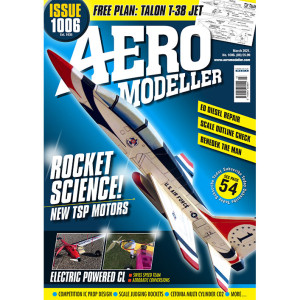 04 Heard at the
Hangar Doors
Editorial, News and Views.
07 Up & Coming
Calendar of Events.
08 Off the Shelf
New and innovat ive products.
10 Unusual Engines
The pre-WWI Cetonia CO2 radial engine is
described by John Goodall.
12 Electric Speed
The Swiss Electric CL Speed team share
their work to improve performance.
16 The Benedek Story
Martin Dilly narrates the life of the
man behind the famous Benedek airfoil
sections.
24 Scale Outlines
Chris Brainwood describes how to use
software to check that draw ing of your
next scale model.
28 Free Plan –
Talon T-38
A profile version of the Talon T-38 for the
new Tender TSP rocket motors from 'Mr
Jetex' Roger Simmonds.
36 Prop Design
Supercool Prop designer describes his
approach to IC competition propellers.
42 Northwick Park
The North London model flying club is
remembered by Roger Cooper.
46 Diesel Repairs
Chris Ottewell revives an ED Hunter to
running condition.
49 Aeropost
Readers' letters and emails.
50 Electric CL
Allan Voyce explains his approach to
converting classic IC CL designs.
56 Scale Judging
Retiring scale rocket judge Stuart Lodge
on how he assesses models.
60 Spirituality of
Aeromodelling
Fr Luke Goymour examines an
underappreciated aspect of our
hobby/sport.
66 Tail End Charlie
The thoughts of Chris Ottewell.