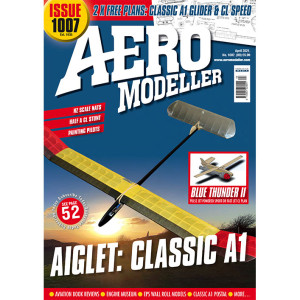 04 HEARD AT THE
HANGAR DOORS
EDITORIAL, NEWS AND VIEWS.
09 UP & COMING
CALENDAR OF EVENTS.
10 POWER TRIP –
HALF A STUNT
MARIS DISLERS LOOKS AT THE OPTIONS FOR
0.8CC/.049CI POWERED CL AEROBATICS.
14 NZ FF SCALE
NEW ZEALAND FF SCALE NATIONALS
COMPETITION REPORT BY STAN MAUGER.
18 POLY WALL
STEVE MIDSON EXPOUNDS THE VIRTUES OF
CHEAP EXPANDED POLYSTYRENE FOAM.
22 PAINTING PILOTS
MODELLER AND SCULPTOR DAVE BANKS
EXPLAINS HOW TO GET THAT REALISTIC LOOK.
26 CLASSIC A1 POSTAL
AN UPDATE ON THE CLASSIC A1 FF GLIDER
CLASS AND A COMPETITION
BY STUART DARMON.
30 FREE PLAN 1 – AIGLET
THE APS AIGLET CLASSIC A1 BY MARTIN BRIDGE
IS THE DESIGN TO BEAT.
40 FREE PLAN 2 –
BLUE THUNDER II
A PULSE JET CL SPEED MODEL FROM DICK HART.
50 BLERIOT WIND VANE
CHARLIE NEWMAN RECOUNTS HIS PROJECT FOR
A HEAVIER THAN NORMAL SCALE MODEL.
54 COVER TO COVER
CHRIS OTTEWELL REVIEWS BOOKS ON FULL-SIZE
AVIATION AND PILOTS.
60 ENGINE MUSEUM
CS ENGINES FOUNDER GAO GUO JUN ON THE
NEW SHANGHAI MUSEUM OF MODEL ENGINES.
64 AEROPOST
READERS' LETTERS AND EMAILS.
66 TAIL END CHARLIE
THE THOUGHTS OF CHRIS OTTEWELL.