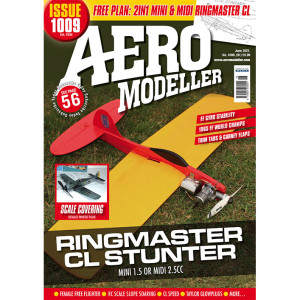 04 HEARD AT THE
HANGAR DOORS
EDITORIAL, NEWS AND VIEWS.
09 UP & COMING
CALENDAR OF EVENTS.
10 GURNEY TRIM TABS
CHRIS EDGE LOOKS AT THE USE OF STRIPS AND
TRIANGLES/WEDGES AS FF TRIMMING AIDS.
14 FF GYROS
IVAN TAYLOR USES AN ELECTRONIC SYSTEM TO
PROVIDE STABILITY FOR HIS LOW WING
SCALE MODELS.
18 FEMALE FREE
FLIGHTER
KATHY BURFORD'S PERSPECTIVE ON WHY SHE
FLIES FF DURATION.
22 PRINTED SKINS
HOW TO PRODUCE DETAILED PRINTED TISSUE
FINISHES FOR SCALE MODELS BY MIKE KELLY.
30 FREE PLAN –
MINI RINGMASTER
A SHRUNKEN VERSION OF THE RINGMASTER FOR
1.5CC OR 2.5CC ENGINES BY DAVE COWBURN.
38 FF WORLD
CHAMPS 1965
A PERSONAL RECOLLECTION OF THE '65 FF
COMPETITION BY PROXY FLYER
DAVE HIPPERSON.
44 TAYLOR GLOWPLUGS
THE CONCLUDING PART OF CHAS TAYLOR'S
AEROMODELLING AUTOBIOGRAPHY.
50 POWER SLOPE
SOARING
GLIDER VERSIONS OF POWERED AIRCRAFT?
MICHAEL KITCHEN EXPLAINS THE ATTRACTION.
58 CL SPEED UPDATE
DICK HART ON HOW TO GET STARTED IN
CL SPEED.
66 TAIL END CHARLIE
THE THOUGHTS OF CHRIS OTTEWELL.