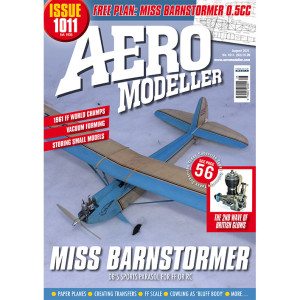 04 HEARD AT THE
HANGAR DOORS
EDITORIAL, NEWS AND VIEWS.
09 UP & COMING
CALENDAR OF EVENTS.
10 VACUUM FORMING
CHRIS BRAINWOOD GIVES A BEGINNER'S GUIDE
TO MOULDING SMALL COMPONENTS.
16 BRITISH GLOWS
THE SECOND WAVE OF BRITISH GLOWPLUG
ENGINES IS EXAMINED BY ADRIAN DUNCAN.
22 BOXED MODELS
RICHARD CROSSLEY DESCRIBES HOW TO STORE
AND TRANSPORT SMALL FLYING MODELS.
26 BLUFF BODY
CORRECTION
SUPERCOOL ON ALLOWING FOR ENGINE
COWLING WHEN DESIGNING HIGH
PERFORMANCE PROPS.
30 FREE PLAN –
MISS BARNSTORMER
FROM THE DAVID BODDINGTON FAMILY OF
BARNSTORMER DESIGNS A 39" SPAN VERSION
FOR FF OR MINIRC.
40 PAPER PLANES
STEVE MIDSON'S A4 PAPER DESIGNS ARE THE
OPPORTUNITY TO ENCOURAGE KIDS WHEREVER
THEY MAY LIVE.
44 1961 FF WORLD
CHAMPS
A RECOLLECTION BY MARTIN DILLY OF THE 1961
FREE FLIGHT WORLD CHAMPIONSHIPS
IN GERMANY.
50 SCALE MATTERS
BILL DENNIS WITH THE LATEST FF SCALE BUILDS.
58 LOCKDOWN BUILDS
AM READERS SHARE SOME OF THE FRUITS OF
ENFORCED SOCIAL ISOLATION OVER
THE PAST YEAR.
62 CREATING
TRANSFERS
CHRIS OTTEWELL USES AN INKJET PRINTER TO
PRODUCE WATERSLIDE DECALS/TRANSFERS.
66 TAIL END CHARLIE
THE THOUGHTS OF CHRIS OTTEWELL.