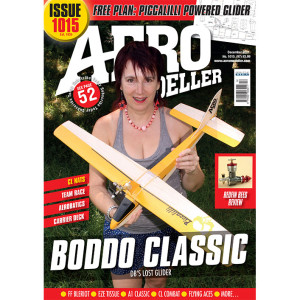 04 HEARD AT THE
HANGAR DOORS
EDITORIAL, NEWS AND VIEWS.
07 UP & COMING
CALENDAR OF EVENTS.
08 POWER TRIP –
REDFIN BEES
MARIS DISLERS REVIEWS THE MINI AND MICRO
BEE DIESELS INSPIRED BY A CLASSIC EARLY E.D.
12 A1 CLASSIC
THE A1 CLASSIC GLIDER EVENT WAS APPENDED
TO THE SUBSTITUTE FF NATS. STUART DARMON
REPORTS.
CL NATIONALS
14 TEAM RACE
MALCOLM ROSS AND SIMON MOLYNEUX REPORT
ON THE TEAM RACE NATS AT BARTON.
20 CL AEROBATICS
THE STUNT NATS AT BUCKMINSTER IS COVERED
BY STEVE WHITE.
24 CARRIER DECK
ANDY HOUSDEN REPORT ON THE CL CARRIER
DECK NATS AT OLD WARDEN.
27 COMBAT
THE VINTAGE AND OLIVER COMBAT NATS BY
JOHNATHON CRABTREE.
28 FREE PLAN –
PICCALILLI
A LOST 36" SPAN POWERED GLIDER DESIGN BY
DAVID BODDINGTON IS PUBLISHED AFTER 50
YEARS.
40 E.D. ENGINES
PART 3 OF KEVIN RICHARDS' GUIDE TO
IDENTIFYING YOUR OLD ENGINES.
44 EZE TISSUE
DELUXE MATERIALS EXPLAIN HOW TO GET THE
BEST FROM THEIR VIBRANT NEW TISSUE.
48 COMBAT HISTORY
PART 2: RICHARD WILKENS TAKES US BACK
THROUGH THE GLORY YEARS OF DIESEL AND
BALSA CL COMBAT FLYING.
54 FLYING ACES
PHOTO REPORT BY ANDREW BODDINGTON ON
THE PETERBOROUGH MFC SILENT FF EVENT.
58 'THE' BLÉRIOT!
PETE FARDELL EXPLAINS HOW HE DEVELOPED
HIS LATEST MODEL OF BLÉRIOT'S CHANNEL
CROSSING MONOPLANE.
66 TAIL END CHARLIE
THE THOUGHTS OF CHRIS OTTEWELL.