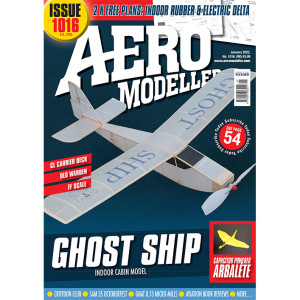 04 HEARD AT THE
HANGAR DOORS
EDITORIAL, NEWS AND VIEWS.
07 UP & COMING
CALENDAR OF EVENTS.
08 POWER TRIP –
DJME GNAT
MARIS DISLERS REVIEWS THE 0.13CC SAXBY
INSPIRED MICRO-MILLS.
12 CROYDON DMAC
PART 1. MARTIN DILLY ON THE COMPETITION
LEADING MODELLERS WHO FLEW WITH THE
CROYDON CLUB.
17 TOPICAL TWISTS
A SIDEWAYS VIEW OF AEROMODELLING FROM
JEREMY PAXOLIN.
18 FESTIVAL OF FLIGHT
OLD WARDEN WAS THE VENUE FOR THE
MODEL AIR EVENT INCLUDING THE RC FUN FLY
NATIONALS.
22 COVER TO COVER
THE LATEST AVIATION BOOK REVIEWS
BY CHRIS OTTEWELL.
28 AM TETHER CAR
PAUL EGGLETON DESCRIBES USING A WWII PLAN
AS THE BASIS FOR HIS NEW CAR.
32 FREE PLAN 1 –
GHOST SHIP
A 16" SPAN INDOOR CABIN MODEL
BY JOHN WHATMORE.
38 FREE PLAN 2 –
ARBALÉTE
AN ELECTRIC CAPACITOR POWERED PUSHER
DELTA FROM 'DR JETEX' ROGER SIMMONDS.
44 CL CARRIER DECK
PART 1 OF ZOE QUILTER'S INTRODUCTION TO
FLYING CONTROL LINE FROM A CARRIER DECK.
48 SCALE MATTERS
THE LATEST FF SCALE BUILDS FROM
BILL DENNIS.
56 OCTOBERFEST!
THE END OF SEASON SAM 35 EVENT INCLUDING
THE MINI GOODYEAR NATS.
60 COMBAT HISTORY
PART 3: RICHARD WILKENS TAKES US BACK TO
THE TRANSITIONAL YEARS OF DIESEL TO GLOW
CL COMBAT FLYING.
66 TAIL END CHARLIE
THE THOUGHTS OF CHRIS OTTEWELL.