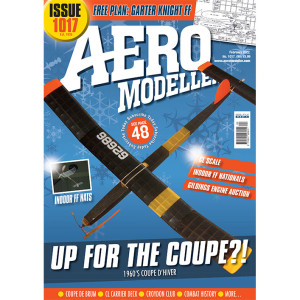 04 HEARD AT THE
HANGAR DOORS
EDITORIAL, NEWS AND VIEWS.
07 UP & COMING
CALENDAR OF EVENTS.
08 OFF THE SHELF
NEW AND INNOVATIVE PRODUCTS.
10 IWATA AIRBRUSH
REVIEW
THE IWATA TAKUMI ECLIPSE AIRBRUSH IS TESTED
BY RICHARD CROSSLEY ON FLYING MODELS.
14 GILDINGS AUCTION
NIGEL MONK AND ANDREW BODDINGTON
REPORT ON THE ANNUAL ENGINE AND KIT SALE.
18 INDOOR NATIONALS
THE DELAYED INDOOR PERFORMANCE NATS
COVERED BY MEREDITH EVANS.
22 IN SCALE CIRCLES
THE LATEST CL SCALE BUILDS FROM RONNIE
TRIBE.
28 FREE PLAN –
GARTER KNIGHT
DERL MORLEY'S CLASSIC 1960'S COUPE D'HIVER
IS REVISITED BY BILL DENNIS.
40 BIRMINGHAM COUPE
THE SEASON CLOSING COUPE D'HIVER FOR THE
AEROMODELLER TROPHY AND CLASSIC/VINTAGE
PLATE.
42 AM ROADSTER
DAVE HANKS ON THE SOUTH BRISTOL MAC
TETHER CAR LOCKDOWN PROJECT.
44 CL CARRIER DECK
PART 2 OF ZOE QUILTER'S INTRODUCTION TO
FLYING CONTROL LINE FROM A CARRIER DECK.
50 CROYDON DMAC
PART 2. MARTIN DILLY ON THE COMPETITION
LEADING MODELLERS WHO FLEW WITH THE
CROYDON CLUB.
60 COMBAT HISTORY
PART 4: RICHARD WILKENS ON THE USE OF
FOAM MODELS IN 1970'S CL COMBAT FLYING.
66 TAIL END CHARLIE
THE THOUGHTS OF CHRIS OTTEWELL.