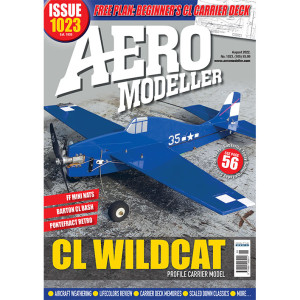 04 HEARD AT THE
HANGAR DOORS
EDITORIAL, NEWS AND VIEWS.
07 UP & COMING
CALENDAR OF EVENTS.
08 WEATHERING &
LIFECOLOR REVIEW
INDOOR SCALE EXPERT RICHARD CROSSLEY
EXPLAINS HOW TO APPLY REALISTIC WEATHERING
AND REVIEWS LIFECOLOR PAINTS.
14 FF MINI NATIONALS
THE FIRST OF THE SUBSTITUTE FF NATS FOR THE
SMALLER CLASSES HELD AT NORTH LUFFENHAM.
CHRIS EDGE REPORTS.
19 FF 100
BOOK REVIEW
A CENTURY OF BRITISH FREE FLIGHT IS CAPTURED
IN THIS NEW PUBLICATION.
20 GEORGE COURT –
FROG ENGINES
ADRIAN DUNCAN UNCOVERS THE HISTORY OF THE
EARLY FROG ENGINE DESIGNER.
28 FREE PLAN –
WILDCAT
A PROFILE CL CARRIER DECK MODEL SUITABLE
FOR BEGINNERS, DESIGNED BY JAN ODEYN AND
PRESENTED BY ZOE QUILTER.
38 SCALE MATTERS
FF SCALE UPDATE FROM BILL DENNIS, INCLUDING
THE EDDIE RIDING TROPHY COMPETITION.
46 BARTON BASH!
CL TEAM RACE AND CARRIER DECK ACTION AT THE
BARTON MFC JAMBOREE.
50 PONTY RETRO RC
THE 10TH ANNUAL GATHERING AT PONTEFRACT
RACECOURSE FOR CLASSIC AND VINTAGE RC
MODELS AND RADIO GEAR.
58 SCALED DOWN
CLASSICS
RUSS LISTER ON THE MUCH-LOVED DESIGNS THAT
WERE SHRUNK AS PART OF AN HPA COMPETITION.
62 CARRIER DECK
MEMORIES
JOHN SNELL LOOKS BACK AT THE EARLY DAYS OF
CL CARRIER DECK IN THE UK.
66 TAIL END CHARLIE
THE THOUGHTS OF CHRIS OTTEWELL.