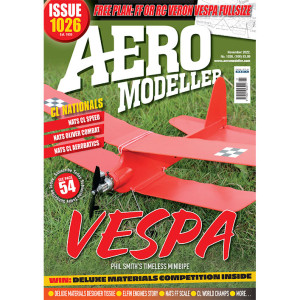 04 HEARD AT THE
HANGAR DOORS
EDITORIAL, NEWS AND VIEWS.
07 UP & COMING
CALENDAR OF EVENTS.
08 DESIGNER
EZE TISSUE
ANDY SEPHTON USES THE GRAPHIC TISSUE TRIM
FROM DELUXE MATERIALS TO FINISH A KK ACE.
12 PRIZE
COMPETITION
SEND US PHOTOS OF YOUR MODEL AIRCRAFT
FINISHED IN DESIGNER EZE TISSUE TO WIN PRIZES.
14 CL WORLD CHAMPS
DAVE WISEMAN REPORTS ON THE F2D COMBAT
WORLD CHAMPIONSHIPS IN POLAND.
19 WASHING LINE?
STEVE MIDSON PONDERS ON HOW TO GET A FF
AUTOGIRO FLYING…
20 FLYING ACES
THE PETERBOROUGH CLUB'S SILENT FF GALA IS
COVERED BY PETE FARDELL.
24 CL NATS: SPEED
DICK HART REPORTS FROM THE RESCHEDULED
BMFA SPEED NATIONALS AT BARTON.
30 FREE PLAN – VESPA
PHIL SMITH'S CLASSIC FF VERON MINIBIPE WITH
THE OPTION TO CONVERT TO ELECTRIC RC
BY MARKS DEANS.
40 ELFIN ENGINES
PART 2. ADRIAN DUNCAN CONCLUDES THE ELFIN
STORY WITH THE BEAM MOUNT AND BALL
RACED ENGINES.
48 SCALE MATTERS
BILL DENNIS ON THE RESCHEDULED FF SCALE
NATIONALS CLASSES.
56 CL NATS:
OLIVER COMBAT
THE BMFA BUCKMINSTER NATIONAL CENTRE WAS
THE VENUE FOR MUCH OF THE RESCHEDULED CL
POWER NATIONALS. DENIS MURPHY REPORTS ON
THE OLIVER COMBAT.
60 CL NATS:
AEROBATICS
THE NATIONALS AEROBATICS CLASSES ARE
COVERED BY STEVE WHITE.
(SEE NEXT MONTH'S AEROMODELLER FOR REPORTS
ON CL NATS VINTAGE & F2D COMBAT, AND
TEAM RACE.)
66 TAIL END CHARLIE
THE THOUGHTS OF CHRIS OTTEWELL.