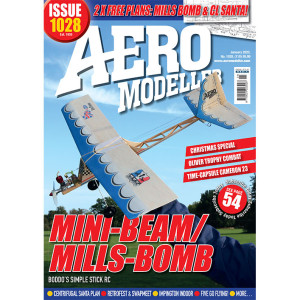 04 HEARD AT THE
HANGAR DOORS
EDITORIAL, NEWS AND VIEWS.
07 UP & COMING
CALENDAR OF EVENTS.
08 POWER TRIP
CAMERON 23
A NEW ENGINE FROM OVER 70 YEARS AGO IS
TESTED BY MARIS DISLERS.
14 IMPINGTON
STUART MARSDEN REPORTS ON IMPINGTON VC
MAC'S INDOOR EVENT.
18 FIVE GO FLYING
A BLYTON PASTICHE FROM THE PEN OF DAVE BANKS.
22 ENGINE AUCTIONS
NIGEL MONK REPORTS FROM THE NEW BMFA
AUCTION AND THE ESTABLISHED GILDINGS SALE.
28 FREE PLAN 1
MILLS BOMB/MINI BEAM
THE POPULAR DAVID BODDINGTON 'STICK AND
SHEET' DESIGN IS BUILT AT REDUCED SIZE BY HIS
SON ANDREW.
36 FREE PLAN 2
CENTRIFUGAL SANTA
PETE HOLLAND'S PROFILE CL FATHER CHRISTMAS!
40 SPORTS FLYING
WITH RUBBER
ANDY BLACKBURN SHARES SOME HINTS AND TIPS
FOR SMALL RUBBER POWERED MODELS.
44 THEN AND NOW
A SURPRISING ARTICLE FROM CHRISTMAS 1957
MODEL AIRCRAFT.
45 TOPICAL TWISTS
IS JEREMY PAXOLIN IN A FESTIVE MOOD?
46 CL NATS: CARRIER
ANDY HOUSDEN REPORTS FROM THE POSTPONED
CL CARRIER NATIONALS.
50 OCTOBERFEST
THE SAM 35 OCTOBERFEST AND BMFA SWAPMEET
AT BUCKMINSTER.
56 POWER GYROS
SUPERCOOL CONTINUES HIS EXPERIMENTS TO FIND
LOW-WING FF STABILITY.
60 OLIVER TROPHY
DENIS MURPHY REPORTS FROM THE OLIVER
COMBAT AT OLD WARDEN.
66 TAIL END CHARLIE
THE THOUGHTS OF CHRIS OTTEWELL.