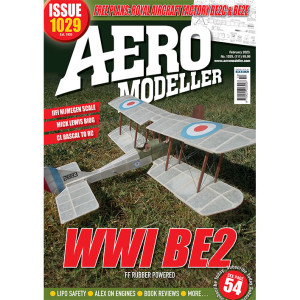 04 HEARD AT THE
HANGAR DOORS
EDITORIAL, NEWS AND VIEWS.
07 UP & COMING
CALENDAR OF EVENTS.
08 OFF THE SHELF
NEW AND INNOVATIVE PRODUCTS.
10 BATTERY SAFETY
GRAEME HOGG ON HIS LIPO CHARGING
FIRE HORROR.
12 ALEX ON ENGINES
ALEX (REDFIN) PHIN SHARES HIS PERSONAL VIEWS
ON TWO STROKE ENGINES.
20 MY STORY
PART 1: COMBAT FLYER MICK LEWIS LOOKS BACK
AT HIS LIFE IN AEROMODELLING.
26 FREE PLAN
BE2C & E
PETER SMART'S RUBBER POWERED BE2 IS DRAWN,
BUILT AND DESCRIBED BY 'LURK'.
42 RASCAL CL TO RC
RON MOULTON'S CL AEROBATIC TRAINER IS GIVEN A
MODERN TWIST BY MIKE SPENCER.
46 IIFI NIJMEGEN
THE INTERNATIONAL INDOOR SCALE EVENT IN THE
NETHERLANDS COVERED BY PETE FARDELL.
56 CIRCLE OF LIFE
GEORGE PICKENS RETURNS TO HIS FIRST LOVE OF
CL FLYING.
60 COVER TO COVER
THE LATEST AVIATION BOOKS REVIEWED
BY CHRIS OTTEWELL.
66 TAIL END CHARLIE
THE THOUGHTS OF CHRIS OTTEWELL.