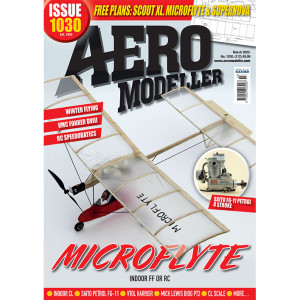 04 HEARD AT THE
HANGAR DOORS
EDITORIAL, NEWS AND VIEWS.
07 UP & COMING
CALENDAR OF EVENTS.
08 POWER TRIP
SAITO FG-11
THE SMALLEST OF THE PETROL/GAS SAITO FOUR
STROKE ENGINES IS REVIEWED BY MARIS DISLERS.
13 EZE TISSUE
COMPETITION
THE RESULT OF THE DESIGNER EZE TISSUE PHOTO
COMPETITION.
14 REVIEW –
VMC FOKKER DVIII
BILL DENNIS BUILDS THE NEWEST MAGNIFICENT
FLYING MACHINES KIT FROM VMC.
18 VMC VISIT
YOUR EDITOR TAKES A TOUR ROUND THE VINTAGE
MODEL COMPANY'S FACTORY.
22 IN SCALE CIRCLES
THE LATEST CL SCALE BUILDS AND NEWS FROM
RONNIE TRIBE.
28 FREE PLAN 1-
MICROFLYTE
JOHN STENNARD CONVERTS DAVE RIDGWAYS
SMALL INDOOR RUBBER FLYER TO RC.
36 FREE PLAN 2 –
SCOUT XL
THE SMALL FROG CHUCK GLIDER OF YOUR YOUTH IS
UPDATED AND UPSIZED BY CHRIS OTTEWELL.
38 INDOOR CL &
SUPER NOVA PLAN
MIKE & STEVE WALLER HAD FUN WITH INDOOR
ELECTRIC COMBAT. WILL YOU GIVE IT A GO?
42 HARRIER HOVERING
HOWARD EVERITT EXPLAINS HIS DEVELOPMENT OF
A SCALE INDOOR VTOL JET.
46 COLD WINTER
FLYING
A LOOK BACK AT THE UK'S BIG FREEZE 60 YEARS
AGO AND THE HARDY SOULS WHO CONTINUED TO
FLY.
50 INDOOR
SPEEDOBATICS
A SET OF INDOOR RC AEROBATIC AND FUN FLY
CHALLENGES WHICH REMOVE THE NEED FOR
SPECIALIST JUDGES.
56 ELECTRIC TALON
THE KK TALON CL FLYING WING IS UPDATED BY
HOWARD & IAN LEWIS.
60 MY STORY
PART 2: COMBAT FLYER MICK LEWIS LOOKS BACK
AT HIS LIFE IN AEROMODELLING.
66 TAIL END CHARLIE
THE THOUGHTS OF CHRIS OTTEWELL.