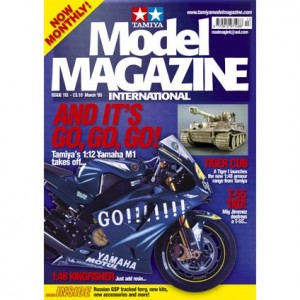 March 2005
Issue 113
»T-55 TKO!
A step-by-step guide to destroying your Tamiya T-55…
»FROM RUSSIA, WITH LOVE
The weird and wonderful Soviet GSP tracked ferry – full size reference shots.
»LONG LIVE THE KINGFISHER!
It maybe nearly forty years old, but Monogram's 1:48 Kingfisher still has
plenty of life in it – just add resin…
»TIGER CUB
The first tank in Tamiya's new 1:48 range is the infamous Tiger I, but does this small scale convey the massive bulk of this machine?
»AND IT'S GO! GO! GO!…
Tamiya's amazing 1:12 Yamaha M1 gets the ultimate accolade – it's been ridden to victory by Rossi himself – but is the kit any good?