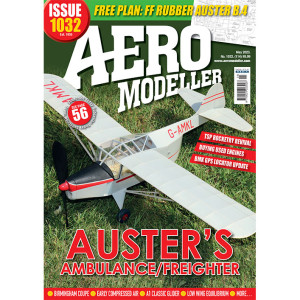 04 HEARD AT THE
HANGAR DOORS
EDITORIAL, NEWS AND VIEWS.
09 UP & COMING
CALENDAR OF EVENTS.
10 GPS LOCATOR
AN UPDATE FROM CHRIS EDGE ON THE BMK GPS
ENABLED MODEL LOCATOR AND A NEW APP FOR
YOUR PHONE.
16 POWER TRIP
MARIS DISLERS ADVISES ON BUYING USED ENGINES
AND LOOKS AT THE HISTORY OF PAW'S 1.5CC
DIESEL.
20 ROCKETRY
REVIVALS III
TSP ROCKET MOTOR POWERED JETS
BY ROGER SIMMONDS.
28 CLASSIC A1
A NEW POSTAL/ONLINE COMPETITION FOR 1950'S
A1 GLIDERS LAUNCHED BY STUART DARMON.
30 FREE PLAN –
AUSTER B4
A 23" SPAN AUSTER AMBULANCE/FREIGHTER
BY MIKE STUART.
40 NEW MODELLERS
STEVE MIDSON ASSESSES ALTERNATIVE SMALL
MODEL MATERIALS AND HOW TO ENCOURAGE
YOUNGSTERS.
44 COMPRESSED AIR
MARTIN DILLY ON THE EARLY LIFE OF PIONEER
POWER MODELLER GORDON TUCKER.
48 LOW WING
EQUILIBRIUM
SUPERCOOL CONTINUES HIS FF STABILITY
EXPERIMENTS.
52 BIRMINGHAM
COUPE
THE DELAYED CONTESTS FOR THE F1G
AEROMODELLER TROPHY AND PRE-70 CD'H
BY GAVIN MANION.
58 FREE PLAN
FOLLOW-UP
JOHN PERIC HAS BLOWN-UP HIS MILLS BOMB!
62 CIRCLE OF LIFE
BORN AGAIN CL FLYER GEORGE PICKENS.
66 TAIL END CHARLIE
THE THOUGHTS OF CHRIS OTTEWELL.