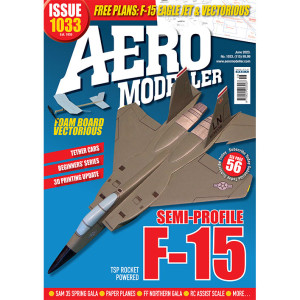 04 HEARD AT THE
HANGAR DOORS
EDITORIAL, NEWS AND VIEWS.
09 UP & COMING
CALENDAR OF EVENTS.
10 OFF THE SHELF
NEW AND INNOVATIVE PRODUCTS.
12 3D PRINTING DIARY
AN UPDATE FROM BRIAN SPENCER ON HIS USE OF
NEW TECH TO PRODUCE SMALL FLYING MODELS.
18 ENGINE AID
A SALE OF ALEXANDR MUTASHA'S ENGINE
COLLECTION TO RAISE MONEY FOR REPAIRS TO
HIS WORKSHOP.
22 RC ASSIST FOR
SCALE
SCALE MODELLER MIKE SMITH SHARES HIS
EXPERIMENTS WITH GYROS AND LIMITED RC IN
FF MODELS.
26 TETHER CAR
DEVELOPMENTS
JOHN GOODALL DETAILS NEW IDEAS FOR AIR
SCREW AND WHEEL DRIVEN TETHER CARS.
30 FREE PLAN 1 – F15
MORE ROCKETRY REVIVALS FROM ROGER
SIMMONDS AND A PLAN FOR TSP POWERED
F15 JET.
40 VINTAGE COMBAT
REPORT BY MICK LEWIS AND DENIS MURPHY ON
THE SOUTH BRISTOL GALA COMBAT.
44 FREE PLAN 2 –
VECTORIOUS
PART 2 OF STUART MARSDEN'S BEGINNERS' SERIES
AND PLAN FOR A SIMPLE FOAM BOARD MODEL.
52 NORTHERN GALA
CHRIS EDGE REPORTS FROM GOOD FRIDAY'S FF
AT BARKSTON.
58 SAM 35
SPRING GALA
PHOTO REPORT ON THE SAM 35 GALA INCLUDING
SIMPLE RC SCALE CONTEST AND BMFA SWAPMEET.
62 PAPER PLANES
MARTIN DILLY DIVES INTO HIS ARCHIVE OF
PROMOTIONAL AND OTHER CARD GLIDERS.
66 TAIL END CHARLIE
THE THOUGHTS OF CHRIS OTTEWELL.