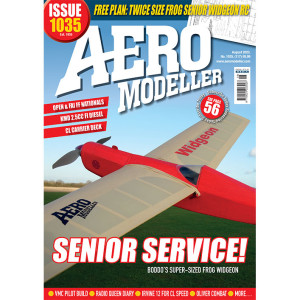 04 HEARD AT THE
HANGAR DOORS
EDITORIAL, NEWS AND VIEWS.
09 UP & COMING
CALENDAR OF EVENTS.
10 OFF THE SHELF
NEW AND INNOVATIVE PRODUCTS.
12 POWER TRIP – KMD
MARIS DISLERS REVIEWS A NEW FRONT INDUCTION
VERSION OF THE 2.5CC KMD DIESEL ENGINE.
16 FF NATIONALS
THE OPEN & FAI FF NATIONAL CLASSES HELD AT
SALISBURY PLAIN REPORTED ON
BY MIKE WOODHOUSE.
22 RADIO QUEEN
REVIVAL
DOUGAL MCINTYRE RECREATES HIS FATHER'S
BUILD AND FLIGHTS OF THE ED RADIO QUEEN.
28 FREE PLAN –
SUPER WIDGEON
DAVID LOVEGROVE BUILDS THE DAVID BODDINGTON
DESIGNED TWICE SIZE FROG SENIOR WIDGEON
FOR RC.
38 HEARD ON THE
HANGAR DECK!
ANDY HOUSDEN GIVES AN UPDATE ON CL CARRIER
DECK, INCLUDING THE NEW SLOB 'SLOW' CLASS.
42 BEGINNERS' SERIES
PART 4 – A BASIC TRADITIONAL BUILD OF THE VMC
PILOT BY STUART MARSDEN.
46 DIGITAL DECALS
DAVE PROCHNOW ON HOW E-PAPER TECH COULD
BE USED BY MODELLERS.
51 IRVINE 12 FOR
SPEED
PETER HALMAN EXPLAINS HOW TO PREPARE THE
IRVINE ENGINE FOR THE 12 SPEED CLASS.
58 OLIVER COMBAT
THE OLIVER COMBAT COMPETITION FOR THE JACK
MARSH TROPHY REPORTED BY DENIS MURPHY.
62 CIRCLE OF LIFE
GEORGE PICKENS ON HIS RETURN TO
CONTROL LINE FLYING.
66 TAIL END CHARLIE
THE THOUGHTS OF CHRIS OTTEWELL.