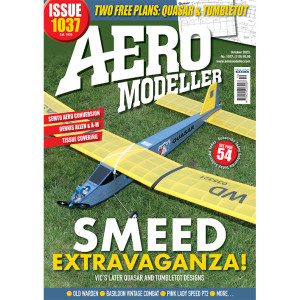 04 HEARD AT THE
HANGAR DOORS
EDITORIAL, NEWS AND VIEWS.
09 UP & COMING
CALENDAR OF EVENTS.
10 POWER TRIP –
SEMTO
MARIS DISLERS BUILDS AND CONVERTS A TWIN
CYLINDER 4-STROKE ENGINE FOR AERO WORK.
16 PINK LADY
PART 2 OF PAUL EISNER'S PROJECT TO RECREATE
THE CLASSIC MONOLINE SPEED MODEL.
22 VINTAGE COMBAT
DENIS MURPHY REPORTS ON ROUND 6 OF THE
VINTAGE LEAGUE.
28 TOM THUMB II
STORY
OUR VIC SMEED COVERAGE KICKS-OFF WITH
RICHARD FALLAS' TALE OF A PREVIOUS FREE PLAN.
30 FREE PLAN 1 –
QUASAR
THIS LITTLE KNOWN LATE 70'S VIC SMEED DESIGN
IS BUILT BY WES DENTON.
42 FREE PLAN 2 –
TUMBLETOT
A LATE PERIOD VIC SMEED PLAN FOR FF OR MINI
RC.
46 TETHER CAR
AN UPDATE ON A COUPLE OF DIFFERENT TYPES OF
AIR CAR.
48 BEGINNERS' SERIES
– COVERING
PART 6 – STUART MARSDEN ON DIFFERENT TISSUE
COVERINGS.
56 DENNIS ALLEN
ENGINES
PART 2 OF THE LIFE OF DESIGNER AND
MANUFACTURER OF A-M, MERCO, CONDOR AND AE
ENGINES BY ADRIAN DUNCAN.
62 OLD WARDEN
THE SCALE WEEKEND AT THE SHUTTLEWORTH
TRUST SITE.
66 TAIL END CHARLIE
THE THOUGHTS OF CHRIS OTTEWELL.