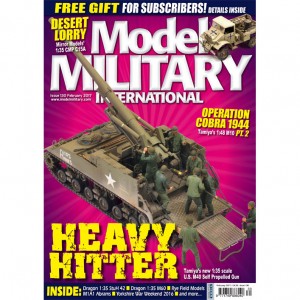 Regulars
p 4 NEWS
What's new in the world of military
modelling.
p 54 BOOKS
Reviews of the latest historical and
modelling publications.
p 56 FIGURES
The latest releases in figures and
figure accessories.
p 58 LARGE SCALE
News and reviews of large scale
models and figures.
p 59 SMALL SCALE
Reviews of 1:72 scale and smaller.
p 60 1:48 SCALE
Luke Pitt's roundup of all the latest
in 1:48 scale modelling.
p 66 LAST POST
Dragon 1:35 Jagdtiger Henschel
Production Type w/12.8cm Pak80 (L/66).
Features
p 6 THINK TANK
M12 and M40 SPGs.
p 14 PREVIEW
Dragon 1:35 StuH 42.
p 16 HEAVY HITTER Part Two
Tamiya 1:35 M40 SPG figures and
painting by Brett Green.
p 28 DESERT LORRY
Mirror Models' 1:35 scale CMP C15A
lorry diorama by Jose Brito.
p 40 PREVIEW
Dragon 1:35 M60.
p 42 OPERATION COBRA Part Two
Kamil Feliks Sztarbala's Tamiya
1:48 US Tank Destroyer M10 Mid
Production.
p 50 SHOW REPORT
Yorkshire War Weekend 2016.
p 57 PREVIEW
Rye Field Models 1:35 M1A1 Desert Storm.