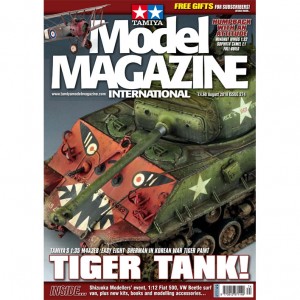 16 TIGER TANK!
Tamiya's 1:35 M4A3E8
'Easy Eight' Sherman in
Korean War tiger paint
36 HUMPBACK WITH AN ATTITUDE
Wingnut Wings 1:32 Sopwith Camel F.1 full-build
28 ZAPPED!
Tamiya's 1:12 Kawasaki ZX-RR Ninja gets the Gennaro Zappa treatment!
6 MARVELLOUS MODELLING
MADNESS!
TMMI's second report from the Shizuoka
Hobby Show; Japanese model clubs take over!
22 BELLISIMA CINQUECENTO!
Building Italeri's 1:12 Fiat 500F kit and
correcting few challenges along the way
44 SPECIAL DELIVERY:
ON THREE WHEELS!
Tamiya 1:8 RC Dancing Rider, based on a
Japanese three-wheeler
48 BEETLE'S BIG BREAK!
A resin body and Tamiya's 1:24 Beetle is used
to create a VW surf van
54 ENGAGE YOUR IMAGINATION!
Hasegawa's MaK Griffon in 1:20
60 BABY BALALAIKA!
Eduard's 1:72 MiG-21MF, previewed
64 CONTACTS
Where to buy the products used and
reviewed in TMMI
66 THE EDITOR'S PAGE
Even more highlights from the Shizuoka
Hobby Show!