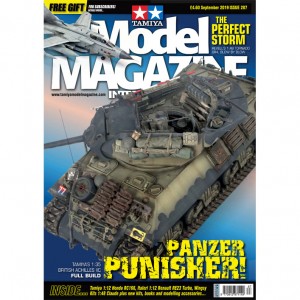 30 TT RACER WITH SIX
THIMBLE-SIZED CYLINDERS!
A masterful rework of Tamiya's 1:12
1966 Honda RC166
40 THE PERFECT STORM
Revell's 1:48 Tornado GR4 full-build
8 PANZER PUNISHER: MODEL
Tamiya's 1:35
British Achilles IIC
tank destroyer
4 NEWS DESK
New kit and model product news
18 PANZER PUNISHER:
REFERENCES
Reference photos of an immaculately restored
M10 Achilles IIC tank destroyer
22 COUNTACH – NO BULL!
Tamiya has resurrected the 1:24 Lamborghini
Countach LP500S kit from the 1970s
24 IT'S TURBO TIME!
Italeri's 1:12 1980 Renault RE23 turbo
straight-from-the-box
46 NEW RELEASES ACCESSORIES
New and recently issued modelling accessories
50 NEW RELEASES KITS
New full model kits reviewed
52 BIG BEAST IN A BIG BOX!
Tamiya's new 1:16 radio controlled Sheridan,
previewed
54 NO SCRATCHBUILDING
REQUIRED
Wingsy Kits' 1:48 Claude fighter in detail
58 ROCKET PROPELLED
GOODNESS!
RPG Model's 1:35 T-80U, in the box
60 BOOK REVIEWS
New and recent books related to scale modelling
64 CONTACTS
Where to buy the products used and reviewed in
TMMI
66 THE EDITOR'S PAGE
Tamiya's P-38 arrives!