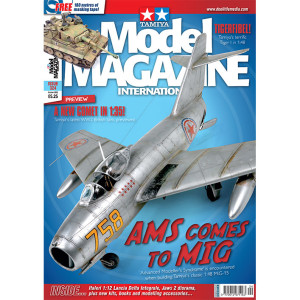 8 AMS COMES TO MIG
Tamiya's 1:48 MiG-15 is hit by Advanced Modeller's Syndrome!
20 A RALLYING ICON IN 1:12!
Building Italeri's stunning 1:12 Lancia Delta
HF integrale 16V
32 A TALE OF ANOTHER TINY TAMIYA TIGER!
Tamiya's 1:48 Tiger I gets gently up-detailed
4 NEWS DESK
New kits and model product news
6 THE COMET'S TALE
Tamiya's new WW2 British A34 Comet Cruiser
Tank, previewed
16 MiG-15 AT WRIGHT-PATTERSON
Modeller's cockpit references for the MiG-15
26 PATIENCE IS A VIRTUE
Adding key details to Tamiya's 1:48 P-51B
Mustang
44 PACIFIC PUSSYCAT
Eduard's stunning new F4F-3 Wildcat in 1:48
46 NEW RELEASES ACCESSORIES
New and recently issued modelling accessories
50 NEW RELEASES KITS
New model kits reviewed
54 WE'RE GONNA NEED A BIGGER
CHOPPER…
A spectacular Jaws 2 diorama!
60 BOOK REVIEWS
New and recent books related to scale modelling
64 CONTACTS
Where to buy the products used and reviewed
in TMMI
66 THE EDITOR'S PAGE
Tamiya's new 1:35 Comet begins!