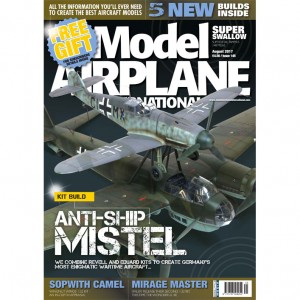 Aug 2017 published 27th July 2017
REGULARS
P04 – IN THIS ISSUE
P06 – NEWSLINE
P10 – COMMENT
P78 – EVENTS DIARY
P79 – CONTACTS DETAILS
P81 – NEXT ISSUE
P82 – FINAL THOUGHTS…
REVIEWS
P66 NEW RELEASES KITS
What will you be building in the months to come?
P68 NEW RELEASES ACCESSORIES
The latest aftermarket products assessed
P72 NEW RELEASES BOOKS
The latest decal releases assessed
P76 NEW RELEASES DECALS
Some of the latest aviation books assessed
FEATURES
P12 IT'S SHOWTIME!
We visit the IPMS Salisbury Model Show
P16 HARRIER HEAVEN
RAF Cosford reveals its jump-jet secrets
P20 ANTI-SHIP MISTEL
The editor grabs the brand-new Revell 1:48 Ju-
88A-4, a box of Eduard Me109F-4 'Overtrees' and
gets to work on a pet project inspired by a model
first seen over 30 years ago…
P21 THE STORMBIRD RETURNS
Ready for our in-depth build, we take a look at
Cosford's newly returned Me262…
P22 SUPER SWALLOW
Do you want to superdetail Tamiya's 1:48 Me262?
We show you how…
P44 SOPWITH CAMEL
We take an in-depth look at Wingnut Wings'
stunning new kit. Haris Ali tells all…
P52 COBRAS OVER THE PACIFIC
Get the best from RS Models 1:72 P-39 Q Airacobra
P56 MIRAGE MASTER
Having completed the initial, 1:32 Mirage IIIC
release from Italeri, Iain Ogilvie adds to his
collection by completing their latest kit, the
gorgeous 'IIIE.