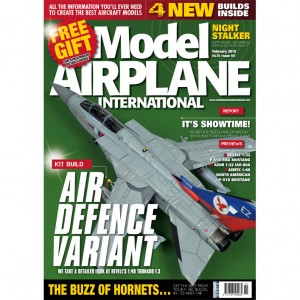 REGULARS
P04 – IN THIS ISSUE
P06 – NEWSLINE
P10 – COMMENT
P78 – EVENTS DIARY
P79 – CONTACTS DETAILS
P81 – NEXT ISSUE
P82 – FINAL THOUGHTS…
REVIEWS
P68 NEW RELEASES KITS
What will you be building in the months to come?
P71 NEW RELEASES ACCESSORIES
What will you be using to dress up you kits in the
months to come?
P74 NEW RELEASES BOOKS
The latest decal releases assessed.
P76 NEW RELEASES DECALS
Some of the latest aviation books assessed.
FEATURES
P16 KIT PREVIEW
Revell release their 1:32 P-51D-5NA Mustang.
Spencer Pollard takes a look…
P20 IT'S SHOWTIME!
Glenn Sands visits last year's Middle Wallop Aircraft
Enthusiasts Fair and Model Show.
P24 AIR DEFENCE VARIANT
Gregg Phillips works his magic on Revell's 1:48
Tornado F.3.
P32 NIGHT STALKER
John Wilkes indulges his interest in helicopters, by
building the Kitty Hawk 1:35 AH/MH-6J
P40 KIT PREVIEW
Azur release their 1:32 IAR-80A. Iain Ogilvie
examines the kit ready for a full build later this year.
P44 THE BUZZ OF HORNETS!
Part one of a dual build this month sees the editor
detail Academy's excellent 1:72 F-18C.
P52 IN COLOUR
Alan Firbank offers some spectacular schemes for
lovers of the F-18C Hornet.
P56 THE BUZZ OF HORNETS!
Part two of a dual build this month sees the editor
tackle the involved Kinetic 1:48 F-18C.
P66 KIT PREVIEW
We take a look at the Airfi x 1:48 P-51D Mustang
and the Eduard accessories released to upgrade it..