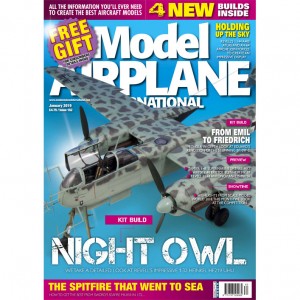 REVIEWS
P10 ONE, ONE, FOUR FOUR NEWS
All that's new for fans of this increasingly popular scale.
P28 KIT PREVIEW
Tamiya has released their spectacular 1:48 Spitfire
Mk.I. We take a detailed look…
P44 KIT PREVIEW
Airfix upscale their Blenheim Mk.I. We assess this
new kit ready for a full build in a future issue…
P54 KIT PREVIEW
Though not due for release until 2019, Revell has
handed over a test-shot of their massive 1:144
Antonov An-225 Mriya. Huw Morgan is the man in
the hot-seat…
P64 NEW RELEASES KITS
Which models will you be building over the coming
months?
P68 NEW RELEASES DECALS
Decals that you will be using to decorate your models…
P72 NEW RELEASES BOOKS
The latest additions to your library shelves.
FEATURES
P12 HOLDING UP THE SKY
Huw Morgan builds Revell's excellent 1:144 A400
Atlas, together with a suitably warlike load…
P20 THE SPITFIRE THAT WENT TO SEA
Jamie Haggo gets the best from Sword's Seafire
Mk.XVII in 1:72…
P32 IT'S SHOWTIME!
Highlights from this year's Scale Model World 2018.
This month we concentrate on the competition.
P40 THE YEAR OF THE BIG KIT…
We take a look at some of the spectacular, large scale
releases from last year's Scale Model World 2018.
P46 FROM EMIL TO FRIEDRICH
Messerschmitt's improved Bf109 variant is the
perfect subject for a quarter-scale model. We take
a detailed look at Eduard's rendition of the stunning
Bf109F-2…
P56 NIGHT OWL
John Wilkes builds Revell's huge Heinkel He219 –
from the box…