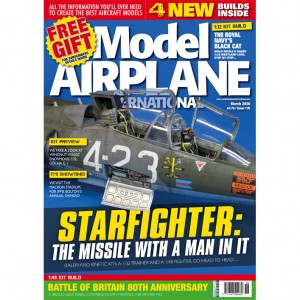 REGULARS
P04 – IN THIS ISSUE
P06 – COMMENT
P08 – NEWSLINE
P78 – EVENTS DIARY
P79 – CONTACT DETAILS
P81 – NEXT ISSUE
P82 – FINAL THOUGHTS…
REVIEWS
P12 KIT BOX
Which models will you be building over the coming
months?
P18 THE AFTERMARKET
Add-on details that will improve your next build.
P22 Transfer List
Choices, choices – which decals will you chose to
build something different?
FEATURES
P70 It's Showtime!
Glenn Sands visits Middle Wallop for their annual
model show and open day.
P30 THE BATTLE OF BRITAIN 80TH
ANNIVERSARY
Alan Price begins his new series on modelling the
aircraft that took part in this famous battle. This
month he tackles the Tamiya 1:48 Spitfi re…
P38 THE END OF AN ERA
The fi rst of our Starfi ghter features, Nigel Poole
build's Kinetic's very impressive 1:48 F-104G.
P48 IN DETAIL
The editor photographs Bruntingthorpe's German
Air Force F-104G Starfi ghter.
P52 TUSCAN TRAINER
Spencer Pollard finally completes his Italeri 1:32
TF-104G, finishing it in the attractive colours and
markings of the Italian Air Force.
P62 THE ROYAL NAVY'S BLACK CAT
John Wilkes swaps wings for rotors to bring us a
detailed appraisal of Revell's 1:32 Westland Lynx.
P42 KIT PREVIEW
Haris Ali takes a detailed look at Wingnut Wing's
every impressive Gotha G.1.
P70 IT'S SHOWTIME!
Spencer Pollard brings us the highlights from this
year's IPMS Bolton Model Show.