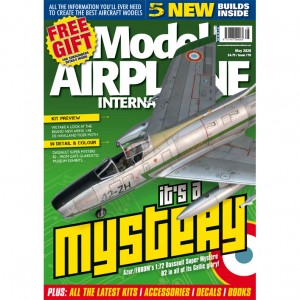 Issue 178 is now at our office and will be on it's way to subscribers this week. The only place to get your monthly MAI is from us. Please allow Royal Mail extra time to get it to you…
If you have ever considered taking a subscription now is a good time – get the magazine first, save money and help support us stay publishing your magazine!
REGULARS
P04 – IN THIS ISSUE
P06 – COMMENT
P08 – NEWSLINE
P78 – EVENTS DIARY
P79 – CONTACT DETAILS
P81 – NEXT ISSUE
P82 – FINAL THOUGHTS…
REVIEWS
P12 KIT BOX
Which models will you be building over the coming
months?
P16 TRANSFER LIST
Choices, choices – which decals will you chose to
build something different?
P20 IN PRINT
What books will inspire you this month?
FEATURES
P26 HIGH SPEED TROOPER
Huw Morgan imagines what Concorde would have
looked like in RAF service…
P46 IN DETAIL
Marcus Jellyman photographs a wonderfully restored
Dassault Super Dassault Super Mystère B2…
P36 IT'S A MYSTERY
The editor builds Azur/FFROM's 1:72 Dassault
Super Mystère B2
P44 IN COLOUR
If you want to see what the real Super Mystère
looked like in the colours of our model, how about
this wonderful gate guard as a perfect example..?
P46 KIT PREVIEW
Spencer Pollard takes a look at the brand new Airfi x
1:48 De Havilland Tiger Moth
P50 AIRCRAFT OF THE BATTLE OF
BRITAIN
Alan Price continues his new anniversary series.
This month he tackles the Airfi x 1:48 Stuka
P58 BENELUX BRAWLER
Mike Williams builds the latest 1:48 Airfi x Hunter,
this time the impressive F.4
P68 PANZERKNACKER
Nigel poole begins his multipart look at the
incredible, Zoukei-Mura 1:32 Henschel Hs129…