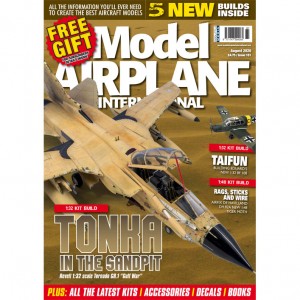 REGULARS
P04 – NEWSLINE
P06 – COMMENT
P65 – NEXT ISSUE
P66 – FINAL THOUGHTS…
REVIEWS
P.8 IN PRINT
What books will inspire you this month?
P.12 TRANSFER LIST
Choices, choices – which decals will you chose to
build something different?
FEATURES
P.14 TIGER MOTH FLIGHT
The Editor shares some photos and thoughts about
his time in an open cockpit.
P.16 RAG, STICKS AND WIRE
Haris Ali builds the new Airfi x 1:48 scale Tiger Moth.
P.24 TAIFUN AT WANAKA
Bf 108 / Pingouin, in action and on the ground at
the 2005 Warbirds Over Wanaka air show.
P.28 TAIFUN
Eduard's new 1:32 scale Bf 108 Taifun by Brett
Green.
P.42 TONKA IN THE SANDPIT
John Wilkes improves Revell's venerable 1:32 scale
Tornado GR.1.
P.50 RISING SUN ON
STAGGERED WINGS
A.B.&K Hobby Kits 1:48 Nakajima A2N3
by Piotr Slominski.
P.58 BLAST FROM THE PAST
Corrected and upgraded Hobby Boss 1:48 scale
F4U-4 Corsair.