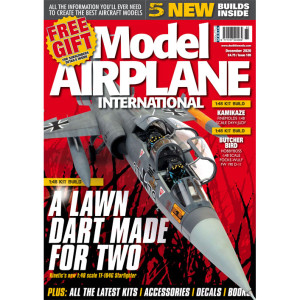 REGULARS
P04 – NEWSLINE
P06 – COMMENT
P65 – NEXT ISSUE
P66 – FINAL THOUGHTS…
REVIEWS
P.8 TRANSFER LIST
Choices, choices – which decals will you chose to
build something different?
P.10 IN PRINT
What books will inspire you this month?
FEATURES
P.12 A LAWN DART MADE FOR TWO
Brett Green builds Kinetic's new 1:48 scale TF-
104G Starfi ghter.
p.26 KAMIKAZE
Chris Wauchop tackles the Fine Molds 1:48 scale
radial-engine Judy.
P.34 A NEW LOOK FOR THE OLD
BUTCHER BIRD
Hobby Boss 1:48 Focke-Wulf Fw 190 D-11 by
Aurelio Reale.
P.46 CLASSIC CORNER BECAUSE IT
WAS THERE
The Editor builds the old Airfi x 1:72 scale Avro
Lancaster B.Mk.III
P.52 YAKKITY YAK PT.1 – ASSEMBLY
Kamil Feliks Sztarbala covers Arma Hobby 1:72
scale Yakovlev Yak-1b in detail.