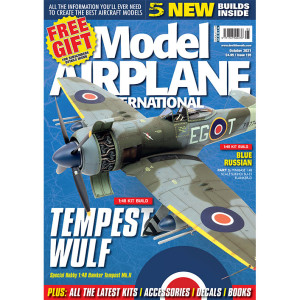 REGULARS
P04 – NEWSLINE
P06 – COMMENT
P65 – NEXT ISSUE
P66 – FINAL THOUGHTS…
REVIEWS
P.8 IN PRINT
What books will inspire you this month?
P.12 TRANSFER LIST
Choices, choices – which decals will you chose to
build something different?
FEATURES
P.16 TEMPEST-WULF
PT. 1 – CONSTRUCTION
Special Hobby's new 1:48 scale Tempest Mk.II
by Brett Green
P.28 FAST JABO
Mike Williams builds the Airfix 1:72
Messerschmitt Me 262 A-2a.
P.34 PREVIEW
Eduard 1:48 Eagle's Call by Brett Green
P.36 PREVIEW
Airfix 1:72 Vulcan by Spencer Pollard
P.40 VINTAGE VULCAN
Spencer Pollard tackles the original Airfx 1:72
Avro Vulcan B.Mk.2.
P.46 BLUE RUSSIAN PART TWO
PAINTING AND FINISHING
Piotr Slominski completes Minibase's 1:48 scale
Sukhoi Su-33 Flanker-D.
P.58 KIWI KITTYHAWK
Brett Green and Chris Wauchop collaborate to build
the classic ProModeler 1:48 scale P-40E.