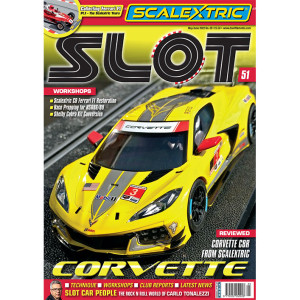 10 Readers Rides Extra
David Allen from Alabama has already featured in this
issues Show us yours – but we singled out his Shelby
Mustang for a 2-page special.
12 Collecting Ferrari Part 1
We have covered collecting the prancing horses Sportscars
in a previous issue. Now it's time for the F1 cars – Part 1
covers the models from Scalextric.
22 WORKSHOP – Revell AC Cobra
Cobra Build Can you take a brand new 1/25th scale Revell
kit and turn it into a slot car? We give it a go!
28 CSCRA Racing
What a great bunch of guys enjoying themselves racing
scale looking models. Looks like a lot of fun to us!
34 Workshop – Ferrari F1 Restore
Another junkyard rebuild, but this time we keep the sweet
running RX Poweresledge.
40 GT 3 First Round – Wolves
A look at 2022's first event of the hotly challenged National
race series.
44 Tracks that never leave home
This time it is a scenic rally stage from our old friend
Dennis Brown in New Zealand.
48 Corvette C8R Review
What would you call the 8th version of the Corvette?
Why the C8 silly! Scalextric brings us the racing version
known as the C8R.
52 S lot car people
What does an ex-Rock n Roll guitarist do with his spare
time? Races slot cars and creates board games, that's what!
We meet Carlo Tonalezzi.
58 Workshop – Formula 56/89 Race prep
Looking for tips in setting up one of these NSR cars?
Forget it Terry just gives his car a new body for the 2022
British Grand Prix!