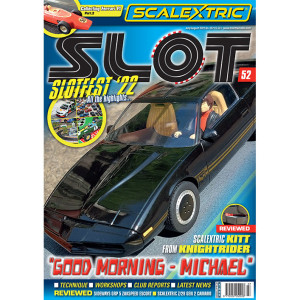 FEATURES
10 It's show time again
After a forced break for two years the UK Slot Festival
returned to Gaydon on the 27th and 28th May. We bring you
some of the highlights.
16 Collecting F1 Ferraris – Part 2
After covering in the last issue, just the models brought to you
by Scalextric since 1957, we now turn or attention to all the
other slot car manufacturers from across the world.
26 T he outrageous Ford Escort MkII Zakpeed
We look at the latest Group 5 saloon from Sideways and it's a
corker!
32 W e go racing! –
Well making up the numbers actually!
Yours truly was well hammered by a top-class field that
attended the NSR British GP held at the Molesey track in late
March.
38 "Good Morning Michael"
The line that often-greeted David Hasselhoff as he got
the behind the wheel of KITT. Scalextric bring you a great
rendering of the black Trans Am, without the annoying voice!
42 WORKSHO P – The Arrows A1B & A2
Slot Magazine regular contributor Philip Prestige sent us in a
couple of scratch-built Arrows F1 cars. Very nice work it is too!
48 A n Unlikely Race Car!
Scalextric Camaro Z/28 – Margate brings us a later version of
the Second Gen sports coupe by Chevrolet. This one raced in
Europe at Spa.
54 T he BRM/TTS Group 2 race series
Ray Lego from the NE United States updates us on the first three
rounds of the BRM/TTS 1/24th scale events for small saloons –
a series being fought out on the racetracks of New Jersey.
60 WORKSHO P – Tyrrell 009 Conversion
What does a Tyrrell, a McLaren and a Lotus have in common?
All three were converted from a FlySlot Williams FW07. Here
we do the Tyrrell.