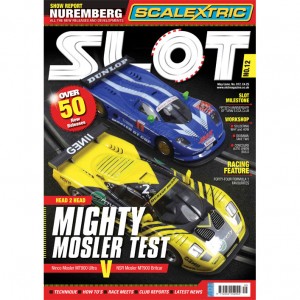 Issue 12 contents:
FEATURES
NUREMBERG TOYFAIR REPORT
The biggest annual showcase for the toy and hobby industry always
HEAD TO HEAD
When Ninco claimed their tuned Mosler MT900 was the fastest available, NSR asked us to compare it with their version. The most thorough test we have done showed an obvious winner.
TEESSIDE CLUB & TRACK BUILD
See how this new slot car club went from nought to opening day in four months.
PAST FORWARD WITH THE BLACK WIDOW
The first commercially available car with two motors promised to be the fastest and the most spectacular.
SCALEXTRIC AT SKY SPORTS F1
Martin Brundle and the rest of the Sky Sports F1 team test the best corners in the world on the biggest track Scalextric have ever built.
NSCC SPECIAL EVENT CARS
Every year the NSCC joins with Scalextric for a weekend.
ITALIAN HISTORY – 50 YEARS OF THE ECA CLUB
Formed in 1964 in Torino, the ECA club has produced National and World
champions.
WORKSHOPS
BONEY BUILDS A TUK-TUK
Driver Boney and his alter-ego Tony Davey are at it again. Forever searching for the most bizarre slot car for Boney to drive, they head off to the densely packed Far-Eastern streets to find something not usually seen on a slot track.
WALLING FOR SLOT DIORAMAS
Peter Simpson read our diorama feature in the last issue and decided he could do a better job of the walling.
BUILDING A CONCOURS AUTO UNION
Remember the picture of the stunning Auto Union concours winner in a previous issue? We asked builder Martin De'Ath to tell us how he did it.
JOINING TOGETHER – THE ART OF SOLDERING
Every slot car has soldered joins somewhere, even just the wires attached to the motor.
RACE REPORTS & EVENTS
34 MSRA MIDLAND SLOTSTOX FINALS
They fought to qualify for it all year, and then invited Richard along to witness the bangs and crashes. The speedy world of SlotStox and Bangers reaches its finale.