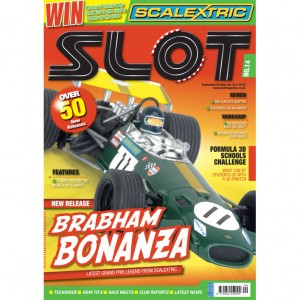 Issue 14 contents:
REGULARS
4 NEWS
What is happening in the SLOT magazine world. News, announcements, and interesting slot
gossip.
6 PITLANE NEW PRODUCTS
See the new cars that are in the shops since the last issue of SLOT magazine. We look at brand new models coming your way, and take a close look at a classic Grand Prix car.
30 CLUB FOCUS
SlotStox brings you into contact with other slot racers literally. Wellgate SlotStox Club has a lot of close
encounters.
43 SLOT CALENDAR
If you want to race or have a look around a Swapmeet, there is probably an event you won't want to miss. Send your event details if you want to be included.
61 SLOT DIRECTORY
Find the retailers and specialist services you need for all your slot racing shopping.
66 FINISH LINE
Richard Hills goes HO HO HO for 6 hours
FEATURES
21 COMPETITION
We have 3 classic bodyshell kits to give away to readers this issue. Perfect for racing in the growing number of classic events, or skilfully building into a display model. Free to enter so try your luck?
22 NSCC WEEKEND CARS
Scalextric generously produce a 32
FAMOUS DRIVERS RACE SLOT CARS IN JAPAN
Japanese racing drivers past and present re-live their best days at a special slot racing event. Given the
honour of being 'Gold Star drivers for a day, they are just as competitive with models of the real cars they drove.
44 PAST FORWARD THE COX CUCARACHA
Surely one of the most famous and iconic slot cars of all time. The chassis design took raceways and club tracks
by storm, the body was a design masterpiece, and it's very collectable today.
48 SLOT DRAG RACING
You like speed but can't handle corners? Some of the craziest vehicles go slot drag racing, and it's very very
fast.
64 6 TIMES ROUND THE WORLD ON 3 LANES
Nobody thought the 3-Lane Scalextric 1:24 track would last for long. Although very popular it went out of production quickly, so surviving tracks have been carefully looked after. Here is one that could hold the record for the longest distance covered on a slot car track.
REVIEWS
28 NEW GRAND PRIX CARS ON THE GRID
Only the pictures made it into the last issue, so now we can properly review the new Formula 1 cars from Carrera. The first new Scalextric Grand Prix car turned up as an added bonus.
36 MODERN 4WD WITH THE SLOT.IT AUDI R18 QUATTRO
We have seen 4WD cars before, plenty have been made since the first slot cars 60 years ago. We look at the drawbacks, and find out why the new car from Slot.it finally makes 4WD work for you.
52 A MCLAREN LIKE AN ARROW
INo, not the Arrows racing cars, or even the Spanish slot car manufacturer. This new car from Canada is like the one shot from a longbow: fast, silent, and deadly.
WORKSHOPS
24 SLOT.IT INTO CARRERA WILL GO
Carrera make beautiful cars, especially the DTM racers, but they need something more to make them competitive. Slot.it designed new chassis that are available as 3D printed accessories, and reader Lee Thorndike decided to build some.
34 READERS DRIVES – SCENIC HOME TRACK
Reader Malcolm Sutcliffe has built a neat home track with some very clever scenery, and was kind enough to send pictures and tell us how he did it.
58 BUILDING A PORTABLE SHOW TRACK
The Phoenix Scalextric Club built a portable track that was much admired at Slot Festival. Featuring a coal mine, river ford, and challenging layout, it also has its own trailer for storage and transport.
63 DO FROG EYES MAKE YOU UGLY?
Not if they are on the Austin Healey Sprite MK1. Shane Price gives the oldtimer Airfi x kit a new look with
some well known striping and a simple chassis.
RACE REPORTS & EVENTS
10 TRANS-AM RACING
Your favourite American muscle cars have their own race series. Mustangs, Camaros, Cougars, and Chargers trade paintwork as they pass the Alfas, BMWs and Euro-Fords on the straights. The littl'uns sneak between them in the
corners, so it's just like the real thing
16 FORMULA 3D SCHOOLS CHALLENGE
What can DT students do with a 3D printer, a basic slot car chassis, and lots of enthusiasm? The results impressed a slot racing World Champion, DT education tutors, and SLOT magazine who went along to see new ideas in action.