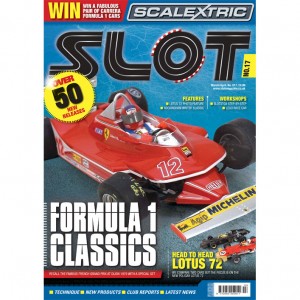 REGULARS
4 NEWS & NEW PRODUCTS
What is happening in the
SLOT magazine world. News,
announcements, and interesting slot
gossip. Plus see the new cars that
are in the shops since the last issue
of SLOT magazine. We look at brand
new models coming your way.
32 CLUB FOCUS
Just 30 miles north of London is a club
that has survived since the 1960s.
Now racing BSCRA cars and SlotStox
they meet at least once a week with a
welcome for new members.
40 PAST FORWARD
As an Anniversary Race is run 50
years after the first endurance trophies
were won in Australia, we look back
at what happened to push slot car
performance to new boundaries.
64 SLOT CALENDAR
If you want to race or have a look
around a Swapmeet, there is probably
an event you won't want to miss. Send
your event details if you want to be
included.
65 SLOT DIRECTORY
Find the retailers and specialist
services you need for all your slot
racing shopping.
66 FINISH LINE
Richard's head is full of old Genesis
songs – and he wishes he had a crash
helmet with the Swiss flag to wear
on it.
FEATURES
18 PHOTO FEATURE
With the Lotus 72 featuring heavily in
this issue, Junichi Kimira in Japan took
some atmospheric pictures to set the
scene.
22 COMPETITION
You've seen the real battles on track
– now you can win the Carrera Ferrari
and Mercedes cars of Lewis Hamilton
and Kimi Raikonnen to race at home.
46 GENESIS UPDATE
The new Genesis standard car class
for BSCRA racers proves its strength
and speed as it enters national
competitions.
48 ROCKINGHAM WINTER CLASSIC
Not a race report, but a look at the
huge variety of cars being raced.
Box-Standard or custom scratch-built,
there is something you can race if you
fancy going along to a club open event.
Concours is a significant part of the
proceedings and we look at the winners.
REVIEWS
34 HEAD TO HEAD LOTUS 72
We do compare two cars but the
focus is on the new Policar Lotus 72.
Long awaited, the engineering and
performance exceeds expectations,
and the Gold Leaf livery is a super
contrast to the Scalextric Lotus 72
JPS release.
58 SRC CLASSIC GRAND PRIX CARS
Slot cars with real springs in the
suspension? And working side skirts?
And individual tyre set markings? These
are just some of the features of the SRC
Ferrari 312 T4 and Renault RS10 cars
just released. You can even recall the
famous French Grand Prix at Dijon 1979
with a special set.