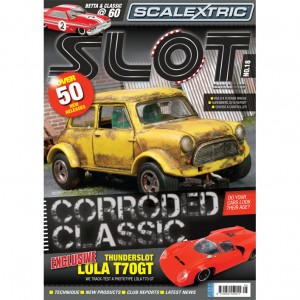 FEATURES
16 NUREMBERG TOYFAIR
The big event every year where
manufacturers announce their
catalogues. See what we found –
and fi nd out about what wasn't there!
22 SCALEXTRIC UPDATE
We take a closer look at some
recent Scalextric improvements to
see if performance will be improved.
There are exclusive views of some
new cars you can look forward to
this year as well.
33 AFX –
HO SCALE IS GETTING BIGGER
Not really, it is staying at 1:64
scale, but AFX are making huge
improvements and introducing
innovative new technology.
38 BETTA & CLASSIC
Not many companies can claim 60
years of continuous supply of parts to
the slot car builder. Now numbering
in the thousands, the huge range of
fi breglass and lexan bodyshells can be
seen on slot tracks all over the world.
REVIEWS
10 THUNDERSLOT LOLA T70 GT
A new manufacturer with a high
pedigree of racing experience and car
building is always welcome. We test
the prototype Lola T70 GT and fi nd it is
quick – very quick! It has some unique
setup features not seen on other cars.
Oh, yes, almost forgot to mention it has
handling to match the speed. Wow…
46 HEAD TO HEAD CONTROLLERS
Just for a change we decided to
look at some controllers. An upgrade
away from the items found in sets, we
examine stronger, more reliable, and
more suitable controllers for anyone
wanting an easy route to complete
control over your car.