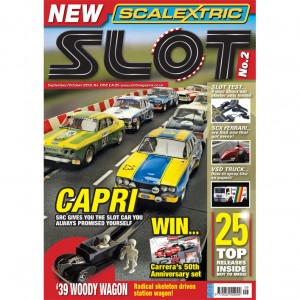 Issue 2 contents:
Regulars
4 News
What is happening in the Slot magazine world with some interesting new developments.
6 Pitlane New Products
We have the latest releases, and its not only cars on the way or in the shops already. Accessories, materials and equipment that will be useful for you.
55 Slot Calendar
If you want to race or have a look around a Swapmeet, there is probably an event you won't want to miss.
65 Next Issue
Find out what we have lined up for you in the next issue
66 Finish Line
Richard Hills ends this issue by reading all about digital slot racing and tells you where to find all the information you need to know.
Features
14 REAL OR SLOT CAR
Find out about the connection between the full-sized and slot racing McLaren M8 as we compare a famous CanAm racer with its working replica.
22 GIANT SET TEST
Four brands are put to the test by real customers. See which would suit you best when our testers report on the good and bad points of top selling sets. Not everyone likes, wants, or needs the same home racing experience ' which would you choose?
36 COVER STORY
New company SRC have modelled the competition versions of Ford's favourite street classic. Is this the car you always promised yourself ?
44 CARRERA 50th ANNIVERSARY AND COMPETITION
Yes it's Carrera's Golden Jubilee year, and we look at some of the special models. Plus the chance to win an anniversary set with some new exclusive cars.
52 THE FERRARI THAT GOT AWAY
A Ferrari Formula 1 car was planned by SCX but never went into production. We have a look at the unique prototype to see what could have been on your tracks.
58 SCALEXTRIC 4 Schools
Every year Scalextric set a challenge for school technology students. See how a winning car was designed and built in the classroom using modern techniques.
WORKSHOPS
18 DIGITAL CAR CONVERSION
You are racing with Scalextric Digital but you like other cars as well ? We show you how to convert any car to race on your track with a simple step-by-step guide.
30 SCENIC TRACK BUILD part 1
The start of our series on building a fully scenic track starts with planning and baseboards. Dave Jessett shows you what to do with a basic set to turn it into a masterpiece.
38 EXPERT FINISH
Martin De'ath uses the latest equipment to do some tricky spraying on a slot truck. Follow his advice and you could have the best looking slot cars with your own unique designs.
48 GEARS Part 2
After showing you the different types of gears and how to look after them, we help you choose the right gears to get the best from your cars and explain how to go faster with the right gear ratios.
62 BUILDING A SLOT CUSTOM CAR
Want something a bit unusual that works on the track? There are plenty of kits to adapt if you use your imagination and the Woody Wagon is Tony Davey's custom conversion.
34 SLOT STOX
See how the cars are built to withstand the hard knocks of scale Stock Car racing. Could there be a standard set of rules on the way?
RACE REPORTS
CLUB NEWS
28 BSCRA SOUTHERN 32 RACE REPORT
Our Roving Racer Richard Hills was at Bournemouth to race and report on the latest round.
42 NSCC NEWS
See what the club have been doing with a real electric racing car and some speed records. Plus how about a Swapmeet?
46 HEART OF ENGLAND CLASSIC F1 RACING
Read what happened at the latest rounds of this fun budget series. The winning car is examined to show why it works so well.
56 BSCRA NATIONAL FINALS
This year was the 50th BSCRA (formerly ECRA) National Finals. The fastest drivers of the fastest cars go head-to-head to find this years champions.
61 CLUB FOCUS
We take a look at a different club in every issue of SLOT magazine. This time we are off to Dudley to see what they are up to.
64 SCALEXTRIC CLUB
Big changes this year for the enthusiasts club, heading exclusively for the internet but with more features for members.