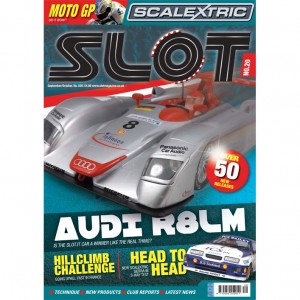 REGULARS
4 NEWS & NEW PRODUCTS
What is happening in the
SLOT magazine world. News,
announcements, and interesting slot
gossip. Plus see the new cars that
are in the shops since the last issue
of SLOT magazine. We look at brand
new models coming your way.
38 READERS DRIVES
See what you can do in a garage
with a bit of track and scenery. David
Churchill has managed quite a bit and
several types of car look completely at
home.
46 CLUB FOCUS
Sun, Sand, Sea, and… Slot Car
Racing. If you can drag yourself away
from the first three, there is a thriving
club in Blackpool. It's also home to
possibly the youngest ever Nationals
finalist.
48 PAST FORWARD
Pretty but painful? Motorcycles, with or
without sidecars, have been regularly
brought to slot car tracks over the last
55 years. Richard looks back at the
Scalextric attempt at MOTO GP and its
very short life.
60 SLOT CALENDAR
If you want to race or have a look
around a Swapmeet, there is probably
an event you won't want to miss. Send
your event details if you want to be
included.
66 FINISH LINE
Richard looks at the body beautiful
– don't get alarmed, there is no fl esh
involved.
67 SLOT DIRECTORY
Find the retailers and specialist
services you need for all your slot
racing shopping.
FEATURES
12 FRENCH HILLCLIMBING
Think of Special Stage Rallying and
then add some racing cars such as
Formula 1 and Le Mans cars. See how
they race against the clock in France –
when not enjoying a lunch break away
from the scenic tracks.
16 FORMULA 3D
It started in 2015 and is bigger and
better in 2016. It's getting quite
technical so real Formula 1 engineers
are starting to take a look, maybe
some of the DT students will be
recruited as a result of their efforts.