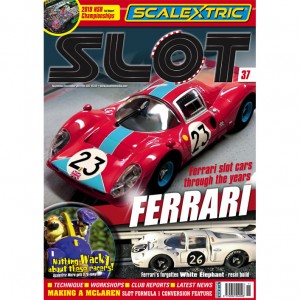 Regulars
4 NEWS & NEW PRODUCTS
What is happening in the
Slot magazine world. News,
announcements, and interesting slot
gossip. Plus see the new cars that
are in the shops since the last issue
of Slot magazine. We look at brand
new models coming your way
64 SLOT CALENDAR
If you want to race or have a
look around a swapmeet, there is
probably an event nearby you won't
want to miss. Send in your event
details if you want to be included
65 SLOT DIRECTORY
Find the retailers and specialist
services you need for all your slot
racing shopping
66 PASSING SHOT
The silver screen meets slot
Features
10 Tail of the Prancing Horse
We open a Pandora's Box, which is
the history of Ferrari's sports cars
seen through the eyes of slot car
manufacturers
20 Williams into McLaren
will go
We show you how to convert an
FW07 into an M29 – a piece of cake!
26 Thunderbirds are Go
A review of the latest new model
from Scalextric, the mid 1980's Ford
Thunderbird
30 2019 NSR Championships
We not only attend but race at this
prestigious manufacturer backed
weekend of slot racing
36 Goodwood Revival
Terry takes a look at some of the
fabulous machines on display,
especially Ferrari that tie in with the
collecting feature
40 The Firebolt
Richard Hills tells the story of this
unusual model, which was originally
designed to be powered by a small
jet engine
42 Team Alfa
Mark Hatton shows us how to create
a complete race team based around
one of the latest F1 teams
50 Ferrari 's white elephant?
Terry delves into this overlooked Le
Mans challenger and builds it as a
resin kit
56 Wacky Races
The famous TV cartoon series is now
bought to life by this new Scalextric
Micro set
60 Galaxie Quest
We look at the possibilities of how to
complete the Professor Motor1/32nd
scale Ford Galaxie body kit
62 The Scalextric club is back
What's in store for members of this
relaunched collectors club?