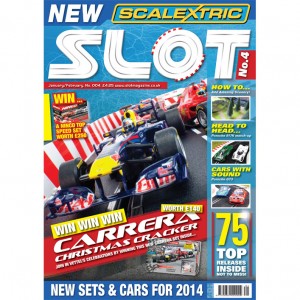 Issue 4 contents:
REGULARS
4 NEWS
What is happening in the SLOT magazine world. News, announcements, and interesting slot gossip.
10 PITLANE NEW PRODUCTS
The latest releases, and it's not only cars on the way. Accessories, materials and equipment, plus all the new cars you can find in the shops.
24 CLUB FOCUS
Just outside Norwich is Presto Park, established in the early 1960s this is one of the oldest names in slot clubs. How are they doing these days ?
26 HEAD TO HEAD
Having trouble choosing between two or more similar cars? We let you know the good and bad about each one. The Porsche 917K is on trial for two manufacturers.
38 PAST FORWARD OUR SLOT HISTORY PAGES
With slot car racing having more than 60 years of history, take a look back at some of the cars, drivers, and notable events of the past. We show you what it is like building a car from wood.
46 READERS' DRIVES
There are some winning cars that deserve to be shared. It may be a concours winner, or first home in a 24 Hours race, or won a championship. We look at the best slot cars around and ask the owners to share their secrets.
64 SLOT CALENDAR
If you want to race or have a look around a Swapmeet, there is probably an event you won't want to miss. Send your event details if you want to be included.
63 SLOT DIRECTORY
Find the retailers and specialist services you need for all your slot racing needs.
66 FINISH LINE
Richard Hills wonders why. See what is getting him thinking.
FEATURES
8 CARRERA WIRELESS WORLD CHAMPIONSHIP SET
Sebastian Vettel won his 4th World Championship in India, and he was guided by a lot of wireless controls. You can put Vettel against Fernando Alonso to relive some of their best dices this year with your own wireless system.
16 CARRERA COBRA WITH YELLO MUSIC
Due in the shops before Xmas is a Limited Edition Cobra with its own soundtrack. Electronic music for an electronic model?
17 XMAS QUIZ
Probably not for settling down to after Xmas dinner, but you could win a Ninco racing set if you have some copies of SLOT magazine handy.
20 FLY SLOT CARS WITH ENGINE SOUNDS
Want to hear your Porsche change gear as it speeds around your track? Fly bring a new dimension to slot racing.
29 EXCLUSIVE FREE GIFT FOR SUBSCRIBERS
Yes totally FREE! An exclusive trackside building from one of our favourite manufacturers.
34 XMAS GIFTS FOR SLOT RACERS
Some of the things we found that would be nice to open, and they are not all cars.
37 SLOT RACERS SURVEY
Tell us about you, what you want in SLOT magazine, and what new cars you would buy if the manufacturers can make them. We want to take our replies to the biggest trade show to see if we can get results.
48 TRUSPEED CONTROLLERS ON TEST
High-end controllers for every type of racing, with lots of gadgets and features added on. Richard Hills has been flexing his fingers.
WORKSHOPS
30 SCENIC TRACK BUILD PART 3
Now the track is fixed down and running Dave Jessett adds some colour with scenic effects.
42 TYRES A GRIPPING SUBJECT
Every slot car needs to grip the track and be smooth to drive. We tell you how to sort out your tyres for best results.
58 FORMULA 1 WITH 6 WHEELS
How a reader built a March 240 with 6 wheels, and it all works properly. The real car never raced but this one can.
RACE REPORTS & CLUB NEWS
18 SLOTSTOX WOMP CHAMPIONSHIP
The metal chassied cars are heading towards their 2013 Finals, who will be driving them?
40 HEART OF ENGLAND CLASSIC F1 RACING
The Bearwood track hosted the final round for 2013, so who won the battle and who won the war?
52 BSCRA RACING NEWS
Lots of different classes have been reaching high speeds around the clubs. It doesn't have to be expensive, but it will always
be fast.
56 SLOT RALLY GB
Gareth Jex takes us sideways towards the championship class winners of 2013 and tries to predict who will win the remaining categories.