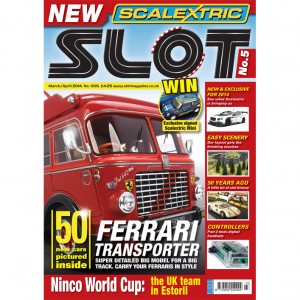 ISSUE 5 is available as a digital magazine here: ISSUE 5 Slot
Issue 5 contents:
REGULARS
4 NEWS What is happening in the SLOT magazine world. News, announcements, and interesting slot gossip.
8 PITLANE NEW PRODUCTS The big news is the Scalextric 2014 range, with lots of classic cars and hot racers, plus all the new cars you can find in the shops.
16 HEAD TO HEAD Having trouble choosing between two or more similar cars ? We let you know the good and bad about each one. The Sunoco Camaro has a robust version from 2 manufacturers, how do they shape up?
34 PAST FORWARD OUR SLOT HISTORY PAGES With slot car racing having more than 60 years of history, take a look back at some of the cars, drivers, and notable events of the past. We look at the Champion Jouef 1:43 cars from the 1960s.
44 READERS DRIVES There are some winning cars that deserve to be shared. It may be a concours winner, or first home in a 24 Hours race, or won a championship. We look at the best slot cars around and ask the owners to share their secrets.
50 CLUB FOCUS Castle Raceway in North Wales have a new clubroom and one of the smoothest tracks in the country. See what they race and how they do it.
63 SLOT DIRECTORY Find the retailers and specialist services you need for all your slot racing needs.
64 SLOT CALENDAR If you want to race or have a look around a Swapmeet, there is probably an event you won't want to miss. Send your event details if you want to be included.
66 FINISH LINE Richard Hills shares his thoughts and experiences on a range of slot topics. What has he been up to lately?
FEATURES
20 SCALEXTRIC LIEFHEBBERS NEDERLAND The SLN is a club passionate about collecting and racing, with strong ties to Scalextric that has resulted in some exclusive cars.
22 DIGITAL RACING IN HOLLAND Marcel Minnaard looks at why digital racing is getting more popular now that early problems have been overcome, and tells how race strategy can be exciting.
26 LE MANS 24 HOURS RACE FOR HO CARS Each year the Derby HO club runs a 24 Hours race on an exact scale replica of Le Mans. The track is huge, the cars are very small, see who lasts the longest in this truly international event.
38 SLOT RACING IN SOUTH AFRICA Is it the same as everywhere else in the world? Read about the cars, tracks, and drivers who enjoy their racing in the sunshine.
48 NINCO WORLD CUP Estoril in Portugal has a real Grand Prix track and it also had a massive 16-lane Ninco track for drivers from around the world to race on for a weekend. What happened to the UK team?
54 FERRARI RACING TRANSPORTER It can carry 3 cars, it has 2 motors to drive it, and it is an exquisite limited edition. The biggest slot release is full of detail and you can see it all here.
WORKSHOPS
30 SCENIC TRACK BUILD part 4 Our track build series springs into life as full colour scenery and effects now that Dave Jessett has added the final touches.
52 TRUSPEED CONTROLLERS part 2 Continuing the report with the digital controllers produced by this specialist company.
RACE REPORTS & CLUB NEWS
14 SOUTHERN 32 FINALS 2013 The Southern 32 Championship took over a holiday cam for a weekend of racing, find out who the 2013 winners are.
36 BSCRA EUROSPORT CARS The larger 1:24 scale cars are probably the fastest racing class in the UK, find out how they go and if the description is justified.
46 SLOTSTOX 2013 GRAND FINALS Pinewood Raceway hosted the most important event on the Slotstox calendar, see who survived the bash'n'crash racing to wear the gold top for 2014.
58 SLOT RALLY GB The final round of Slot Rally GB 2013 had lots of cars, special stages, and silverware up for grabs if you could survive the intense competition. Gareth Jex gives us the results and sets the scene for 2014.
60 NSCC SCALEXTRIC WEEKEND A factory visit, racing on 3 tracks, auction of exclusive prototypes, and some very special cars. What could be better for racers and collectors?